All In One
Superior POS Systems, enabling you to respond to market demand.
Gamme VariPOS
Tout-en-un, un pour tout.
Gamme complète de processeurs Intel® Bay Trail J1900 / Ivy Bridge Mobile i3 sans ventilateur pour informatique haut de gamme i3/i5.
Écran plat tactile PCAP 15″ (gamme S) ou 19″
Option de stockage avec disque dur ou SSD en option
Large connectivité périphérique : lecteur de carte magnétique, lecteur iButton, lecteur de carte à puce, lecteur d'empreinte digitale, lecteur RFID, affichage secondaire 10,4″, station d'accueil secondaire VariPad
Élégant châssis solide en aluminium à élimination de chaleur sans ventilateur
Conception modulaire pour répondre aux exigences de plusieurs scénarios
Capots E/S avec 8 options de couleurs pour s'adapter à tous les environnements d'entreprise
La première solution POS extra-plate 15″, classique ou colorée : indémodable
VariPOS, le premier terminal POS qui se démarque de tous les POS dans les secteurs de la vente au détail et de l'hôtellerie.
Des fonctionnalités avancées pour générer une bonne expérience utilisateur, combinées à la technologie de pointe du secteur.

Efficacité énergétique et performances

Gamme complète de processeurs Intel
Prise en charge d'une gamme complète de processeurs Intel Bay Trail & Ivy Bridge, avec protection d'identité et technologie antivol Intel®, depuis le J1900 jusqu'au Intel Core i5 à hautes performances.

Intel TPM
Les processeurs Intel Core de 6e génération protègent l'internet des objets et vos données grâce à une sécurisation renforcée du matériel et des logiciels, pour que vos objets connectés restent en parfait état.

Anti-éclaboussures IP66
Avec une protection complète contre les projections d'eau et contre la poussière (IP66), il est parfaitement adapté aux rigueurs des environnements de la vente au détail et de l'hôtellerie.
Extensibilité exceptionnelle avec
périphériques associés
VariPOS offre à la fois des solutions POS 15″ et 19″ et des solutions Panel PC. Interface E/S complète pour la vente au détail et l'hôtellerie pour répondre à tous les scénarios. Ce système est conçu avec une structure modulaire et est compatible avec une gamme complète de périphériques : lecteur de carte magnétique, lecteur iButton, afficheur VFD, lecteur RFID, lecteur d'empreinte digitale, affichage secondaire, station d'accueil secondaire VeriPad, etc.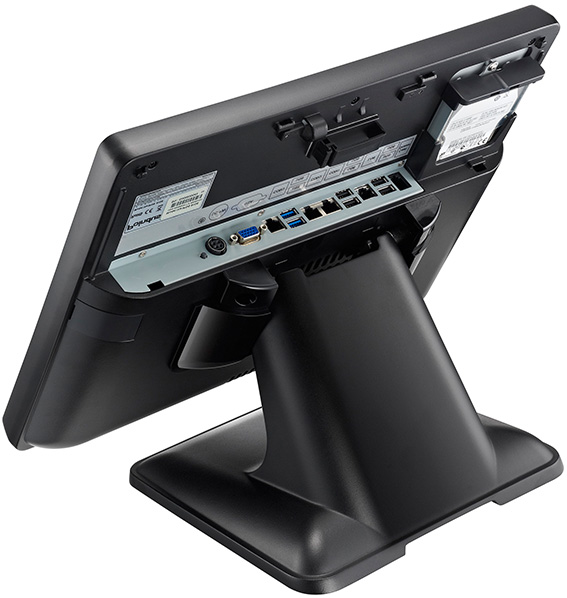 VariPOS 750

VariPOS 850

VariPOS 890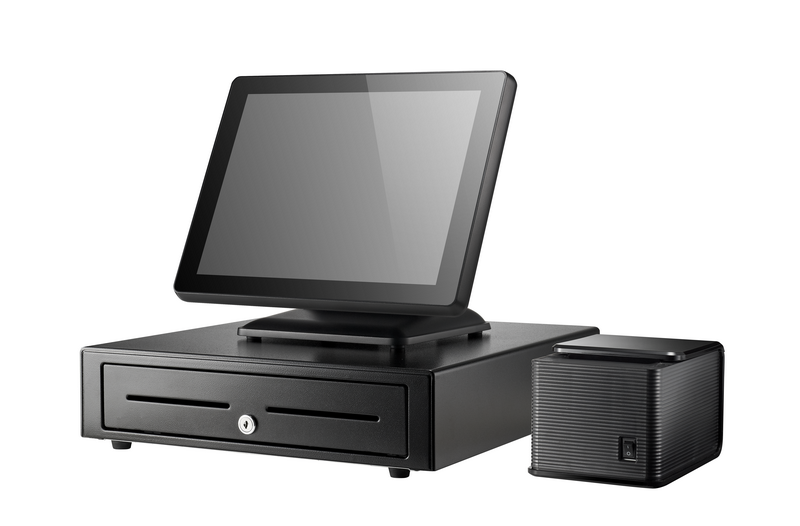 Plusieurs options de montage et configurations disponibles
Un design primé avec son apparence élégante et des performances permettant de prendre en charge des applications orientées performances et des exigences logicielles avancées. Configuration sur comptoir, montage sur pied ou montage VESA pour prendre en charge divers scénarios. Dans la restauration ou dans la vente au détail, VariPOS compte à son actif de nombreuses réussites clients et une expérience éprouvée avec les installations exceptionnelles de nos partenaires.
Fonctionnement fluide et conception modulaire
Notre construction robuste peut gérer le stress des environnements de points de vente, ce qui garantit une durée de vie plus longue. Les conceptions modulaires fiables réduisent la complexité des déploiements et simplifient la maintenance. Nos solutions sont soutenues par notre réseau de distributeurs internationaux, éditeurs de logiciels indépendants, SI, VAR et revendeurs.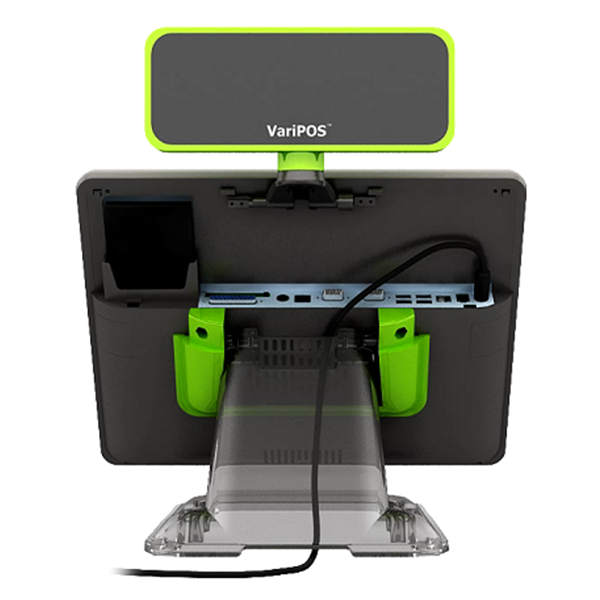 Specification
 

 VariPOS 

  Model Name
  VariPOS 750、VariPOS 850、VariPOS 890
  Main Board
  Processor

VariPOS 750

Intel® Celeron J1900  2.0GHz , Cache 2MB

VariPOS 850:

Intel® Skylake Core i5-6300U 2.4 GHz up to 3.00 GHz, Cache 3MB

Intel® Skylake Core i3-6100U 2.3 GHz, Cache 3MB

VariPOS 890:

Intel® Skylake Core i5-6300U 2.4 GHz up to 3.00 GHz, Cache 3MB

Intel® Skylake Core i3-6100U 2.3 GHz, Cache 3MB

Intel® Skylake Celeron 3955U 2.00 GHz, Cache 2MB
*Celeron Project Only

  Chipset

VariPOS 750 、VariPOS 850、 VariPOS 890

CPU Integrated
  TPM

VariPOS 850、VariPOS 890 :

Intel F/W
  System Memory

VariPOS 750

1 x DDR3L SO-DIMM up to 8GB

VariPOS 850、VariPOS 890:

1 x SO-DIMM DDR3L 1600MHz, up to 8GB
  Display & Touch
  LCD Size

VariPOS 750、VariPOS 850:

15″ TFT LCD(LED backlight)

VariPOS 890:

19" TFT LCD(LED backlight)

Brightness

VariPOS 750 、 VariPOS 850、VariPOS 890 :

350nits
Touch Technology

VariPOS 750 、 VariPOS 850、VariPOS 890 :

True Flat Projected Capacitive Technology 
Resolution

VariPOS 750、VariPOS 850:

1024 x 768

VariPOS 890

1280 x 1024
  Storage
  HDD/SSD
1 x SATA (2.5 ») HDD or SSD
  I/O & Expansion
   DC Input

VariPOS 750 、 VariPOS 850、VariPOS 890 :

1 x Mini Din 4P (DC 19V only)
  Cash Drawer

VariPOS 750 、 VariPOS 850、VariPOS 890 :

1 x RJ-11 (Power Pin 12V or 24V(default))

Port Supports 2 Cash Drawer

  LAN port
1 x Gigabit Ethernet by RJ-45  (VariPOS 890: 2nd LAN Optional )
  USB port

VariPOS 750 、 VariPOS 850:

2 x USB 2.0 , 4 x USB 3.0

VariPOS 890 :

3 x USB 2.0 , 4 x USB 3.0
  COM port

VariPOS 750: 

3 x RS-232(COM1/2:DB-9,COM3:RJ48) w/ RI/5V/12V, selectable by BIOS (default is RI)

VariPOS 850、VariPOS 890 :

4 x RS-232 (3 x RJ48+1 x D89 Connector), COM 1/2/3 with DC 0V/5V/12V, Selectable by BIOS. Default is DC 0V
  Audio port

VariPOS 750、VariPOS 850:

N/A

VariPOS 890

1 x Line-out ; 1 x Mic-In
  PS/2 port

VariPOS 750 、 VariPOS 850、VariPOS 890 :

N/A
  LPT port

VariPOS 750、VariPOS 850:

N/A

VariPOS 890

1 x DB-25 Printer port
  VGA port

VariPOS 750 、 VariPOS 850、VariPOS 890 :

1 x DB-15 VGA port  Power enable by BIOS setting (default disable)
  Bus Expansion
1 x Mini-PCI-E Slot
  Power Switch
1 x power on / off switch button
  Speaker
HD Audio, 2W Speaker x 2
  OS Support
VariPOS 750

Win10 IOT 2016, Win8.1, Win7

  VariPOS 850 、VariPOS 890 :

Windows 10 IOT 2016 (64bit)
Windows 8.1 (64bit)
Windows 7 (32/64bit)
  Power Adapter

VariPOS 750

External adapter, DC Model:65 Watts, Voltage:+19VDC 3.42 Amax

  VariPOS 850

External adapter, DC Model:90 Watts, Voltage:+19VDC 4.74 Amax

  VariPOS 890

External adapter, DC Model:90 Watts, Voltage:+19VDC 4.74 Amax
(Optional Medical Adapter)
  Compliance
  Certifications

VariPOS 750 、 VariPOS 850 :

CE, FCC, LVD, RoHS

VariPOS 890

CE, FCC, LVD, RoHS & Medical Certificates (CE: EN60601-1-2, FCC: Part 18, LVD: EN60601-1)
  Protection
IP 66 on front panel
  VESA Mount
  Main Unit: Die-Cast Aluminum ; I/O Cover:Plastic
  Material
  Main Unit: Die-Cast Aluminum ; I/O Cover:Plastic
  Color
VariPOS 750、VariPOS 850、VariPOS 890 :

Black
  Dimension( Wx H x D )
VariPOS 750
VariPOS 850
370 x 300 x 236mm 
VariPOS 890

446 x 363 x 276mm (POS) / 446 x 377 x 70.4mm (PPC)
  Weight
VariPOS 750
VariPOS 850
7 Kg (POS) /5.7 Kg (PPC)
VariPOS 890

9.3 Kg (POS) /7.3 Kg (PPC)
  Environmental
  Operating Condition
0ºC ~ 40ºC, 10% ~ 90% RH, non-condensing
  Storage Condition
-20ºC ~ 60ºC, 10% ~ 90% RH, non-condensing
  Optional Accessories (More Information) / (*Optional Accessories are N/A VariPOS / VariPPC 890)
  VFD/LCM
VFD: 2 x 20 attached
  MSR
Front, 3 tracks USB Type
  iButton
USB Type
  SCR
USB Type
  Finger Print
USB Type
  RFID
USB Type, 13.56MHZ
  Scanner
2D Scanner, USB Type
  2nd Display

VariPOS 750、VariPOS 850

10.4″ Resolution 800 x 600

VariPOS 890:

N/A
  e-Brochure and Datasheet (VariPOS)↓