All In One
Superior POS Systems, enabling you to respond to market demand.
VariPOS 750/850
All-in-One, One for All
Full range of CPUs from Celeron to Intel 12th Gen. Core i3/i5
15" True Flat P-Cap Touch Screen
HDD or optional SSD storage option
Extensive peripheral connectivity – MSR, iButton, SCR, Fingerprint, RFID, 10.4″ 2nd Display, VariPad 2nd Cradle
Stylish & durable Aluminum chassis with fanless heat elimination
Modular design to satisfy multi-scenario requirements
8 colorful IO covers to suit any business environments
TSE Adapter for VariPOS (KassenSichV) Compliant
The world's first 15" True Flat POS & Colorful Classic Forever
VariPOS, the first POS terminal that's stands out from every POS in the Hospitality and Retail
industry. Great functionality drives great user experience, combined with the industries latest
technology.

Energy Efficiency & Performance

Full Range Intel Processors
12th Gen Intel Core processors offer TPM to protect IoT systems & supports Microsoft Windows platforms

Intel TPM
Intel Core processors protect IoT systems and data through hardware- and software-based security hardening ,keeping connected devices secure.

IP66 Spill Proof
Combined with full IP66
(Ingress Protection) dust and waterproof protection, is perfectly suited for the rigors of hospitality and retail environments.
Outstanding Extendibility with
Companion Peripherals
VariPOS 15" counter POS and Panel PC solutions. Providing complete hospitality and retail IO interface to service all scenarios. This system is designed with a modularized structure and is compliant with a full range of peripherals including MSR, iButton, VFD, RFID, Fingerprint & 2nd Display.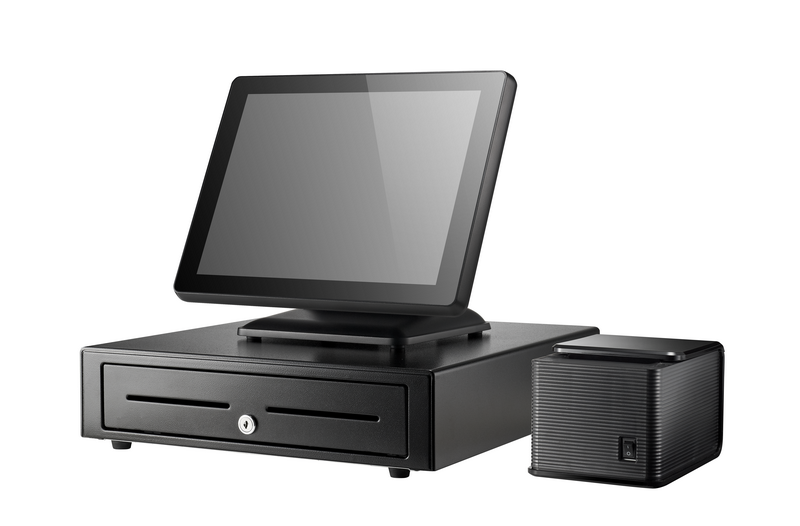 Multiple Mounting & Configuration Options Available
A winning design with its stylish appearance and performance to support performance-oriented applications and advanced software requirements. Available counter POS, Pole or VESA Mount for multiple scenario. No matter in F&B or any retail scenarios, VariPOS has countless success stories and a proven track record with our partner's great installations.
Seamless Service with Modular Design
Our robust build can handle the stresses of the point of sale environment ensuring a longer lifespan; with reliable modular designs reduce the complexity of rollouts and simplify maintenance and are backed by our network of international distributors, ISVs, Sis, VARs and resellers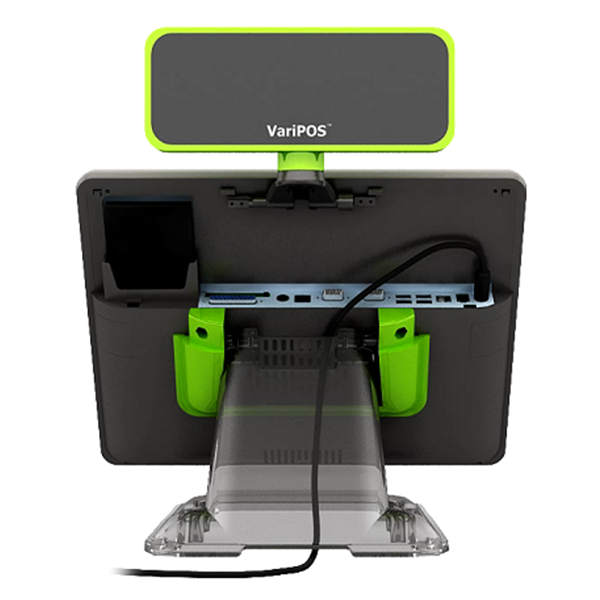 Specification
VariPOS 750 (PE24)
variPOS 850 (PE26)
  Main Board
 
VariPOS 750 (PE24)
VariPOS 850 (PE26)
  Processor
Intel® Celeron® J6412  
Intel® Alder Lake-P Platform
i5-1235U
i3-1215U
  Chipset
CPU Integrated
  System Memory
1 x SO-DIMM DDR4 slot, 4GB RAM as standard.  Max. memory support up to 16GB.
1 x 8GB DDR5 SO-DIMM memory
(Max.support up to 32GB)
  TPM
Intel F/W
  Intel AMT
N/A
i5 CPU Only
  Display & Touch
  LCD Size
15″ 4:3 TFT LCD (LED backlight)
  Resolution
15″ 1024 x 768 (4:3)
  Brightness
350 nits
Touch
True Flat Projected Capacitive Technology

  Storage
  HDD/SSD
1 x SATA III (2.5") or M.2 Storage (Option)
  Panel I/O    
  LAN Port
1 x Gigabit Ethernet by RJ-45
  USB Port
3 x USB 2.0, 3 x USB 3.1
  COM Port
3 x COM (COM 1/2: RG48 Support DC to 5/12v by BIOS Setting)
Default Setting is 0v, Com3: DB9
  Cash Drawer
1 x RJ11 (Support DC+12v or +24v (default)) port supports 2 cash drawers
  VGA
1 x DB-15 VGA Port
Power enable by BIOS setting (default disabled)
  Type C
1 x Type C
  Speaker
HD Audio, 2W Speaker x 2
  Power Switch
1 x power on/off button
  DC Input
1 x Mini Din 4P (DC+19v only)
 VariIO I/O Box & Expansion (Optional)
  Cash Drawer
1 x RJ-11 (Support DC +12V or +24V (default)) port supports 2 cash drawers
  LAN port
1 x Gigabit Ethernet by RJ-45
  USB port
2 x USB 3.0; 4 x USB 2.0
 Powered USB Port
 (Project Based)
2 x DC+12v Powered USB
1 x DC+24v Powered USB
COM Port
4 x RS-232 (jumper setting, support DC+0/5/12v, default setting is 0v)
 Type C
1 x Type C
OS Support
Windows 10 (64bit)  |  Windows 11 (64bit) (Option)
 Power Adapter (External Adapter)
Voltage:+19VDC, Std. 65 watt *PUSB will use 180 watt adapter
Voltage:+19VDC, Std. 90 watt
*PUSB will use 180 watt adapter
Compliance
Certifications
CE, FCC, LVD, RoHS
Material
Main Unit: Die-Cast Aluminum
Color
Main Unit: Space Gray / Black
Dimension
( W x H x D mm )
15″ – 370 x 300 x 236 mm ( POS ) / 370 x 287 x 55 mm ( PPC )
Environmental Conditions

Operating:  0°C ~ 40°C, 10% ~ 90% RH, non-condensing

Storage:  -20°C ~ 60°C, 10% ~ 90% RH, non-condensing

Optional Accessories
MSR  
ISO 3-Tracks Slim MSR USB Type
ibutton
ibutton  Dallas Key Reader,USB Type
RFID  
13.56Mhz USB Type 
Fingerprint
DigitalPersona U.are.U 4500 Module, USB Type
Scanner  
2D scanner, USB Type
2nd Display 
10.1 " Resolution 1280 x 800 (16:10 wide screen) USB Type, Touch / Non Touch
VFD
2×20 VFD, COM Type
Packaging  Carton
L460 x 300 x H510 mm
e-Brochure and Datasheet↓