All In One
Superior POS Systems, enabling you to respond to market demand.
VariPOS 750/850
All-in-One-Lösung für jeden Bedarf
Full range of CPUs from Celeron to Intel 12th Gen. Core i3/i5
True-Flat-PCAP-Touchscreen der S-Serie (15  Zoll)
HDD oder optionale SSD-Speicherlösung
Umfassende Konnektivität von Peripheriegeräten – Magnetstreifen-Leser, iButton-Leser, Chipkarten-Leser, Fingerabdruck-Scanner, RFID-Leser, 2. Display (10,4 Zoll), 2. VariPad-Station
Stilvolles, robustes Aluminiumgehäuse mit Lüfter-loser Wärmeableitung
Modulares Design für den Einsatz in unterschiedlichen Umgebungen
8 farbenfrohe I/O-Abdeckungen für sämtliche Geschäftsumgebungen
TSE-Lösung (KassenSichV) -konform

Das weltweit erste True-Flat-POS-Display mit 15 Zoll und
farbenfrohem, klassischem Design
Das VariPOS ist das erste POS-Terminal, das sich von anderen POS-Geräten im Gastgewerbe und Einzelhandel abhebt.
Die erstklassige Funktionalität sowie branchenführenden Technologien sorgen für eine positive Nutzererfahrung.

Energieeffizienz und Leistung

Umfassende Palette an
Intel-Prozessoren
12th Gen Intel Core processors offer TPM to protect IoT systems & supports Microsoft Windows platforms

Intel TPM
Intel-Core-Prozessoren schützen IoT-Systeme und Daten durch hardware- und softwarebasierte Sicherheitsfeatures und schützen somit alle angeschlossenen Geräte.

IP66-
Feuchtigkeitsschutz
Durch den vollständigen IP66-
Schutz ist das Gerät umfassend vor Staub und Wasser geschützt und eignet sich somit ideal für den Einsatz in Gastgewerbe und Einzelhandel.
Herausragende Erweiterbarkeit durch
kompatible Peripheriegeräte
Das VariPOS bietet sowohl Kassensysteme als auch Panel-PC-Lösungen mit 15 und 19  Zoll. Es verfügt über eine komplette I/O-Schnittstelle für Gastgewerbe und Einzelhandel, das den verschiedensten Szenarien gerecht wird. Das System basiert auf einer modularisierten Struktur und ist mit einer Vielzahl an Peripheriegeräten wie Magnetstreifen-Leser, iButton-Leser, Fluoreszenzanzeige, RFID-Leser, Fingerprint-Scanner, 2. Display, 2. VariPad-Station usw. kombinierbar.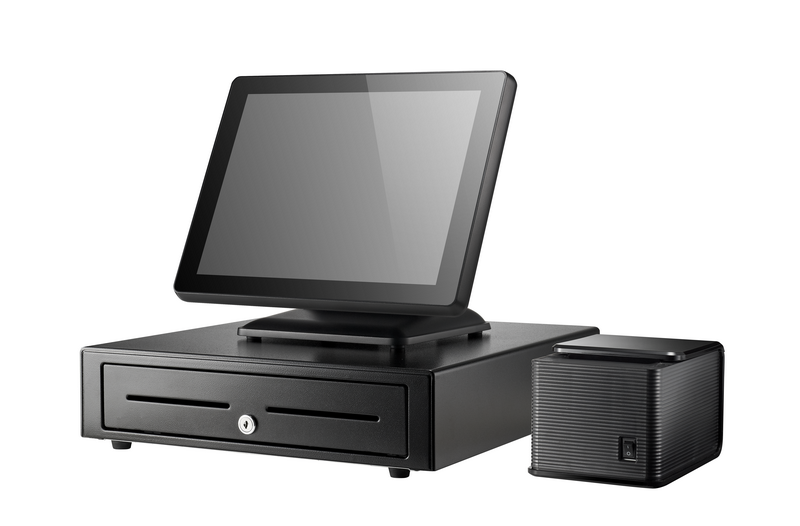 Mehrere Montage- und Konfigurationsmöglichkeiten
Das überzeugende, stilvolle Design sowie die optimale Funktionsfähigkeit unterstützen leistungsorientierte Anwendungen und fortschrittliche Software-Anforderungen. Die Montage im Kassenbereich, mit Stand-Fuß oder VESA-Halterung, ermöglicht vielfältige Einsatzmöglichkeiten. Ob in Gastronomiebetrieben oder im Einzelhandel – VariPOS hat sich bei unseren Partnern bereits in den verschiedensten Situationen bewährt.
Nahtloser Service mit Modularem Design
Unsere robuste Lösung wird den Anforderungen in stressigen POS-Situationen gerecht und garantiert eine längere Lebensdauer. Durch zuverlässige modulare Designs können Rollout-Prozesse weniger komplex gestaltet und die Wartung vereinfacht werden – unterstützt von unserem Netzwerk aus internationalen Händlern, ISVs, SIs, VARs und Wiederverkäufern.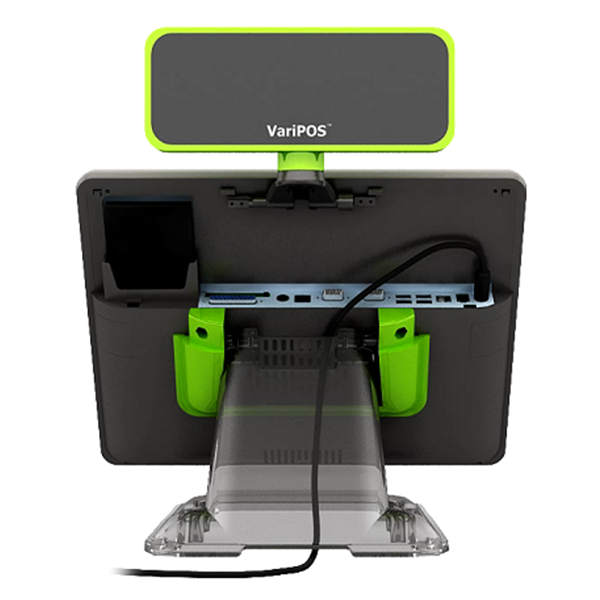 Specification
VariPOS 750 (PE24)
variPOS 850 (PE26)
  Main Board
 
VariPOS 750 (PE24)
VariPOS 850 (PE26)
  Processor
Intel® Celeron® J6412  
Intel® Alder Lake-P Platform
i5-1235U
i3-1215U
  Chipset
CPU Integrated
  System Memory
1 x SO-DIMM DDR4 slot, 4GB RAM as standard.  Max. memory support up to 16GB.
1 x 8GB DDR5 SO-DIMM memory
(Max.support up to 32GB)
  TPM
Intel F/W
  Intel AMT
N/A
i5 CPU Only
  Display & Touch
  LCD Size
15″ 4:3 TFT LCD (LED backlight)
  Resolution
15″ 1024 x 768 (4:3)
  Brightness
350 nits
Touch
True Flat Projected Capacitive Technology

  Storage
  HDD/SSD
1 x SATA III (2.5") or M.2 Storage (Option)
  Panel I/O    
  LAN Port
1 x Gigabit Ethernet by RJ-45
  USB Port
3 x USB 2.0, 3 x USB 3.1
  COM Port
3 x COM (COM 1/2: RG48 Support DC to 5/12v by BIOS Setting)
Default Setting is 0v, Com3: DB9
  Cash Drawer
1 x RJ11 (Support DC+12v or +24v (default)) port supports 2 cash drawers
  VGA
1 x DB-15 VGA Port
Power enable by BIOS setting (default disabled)
  Type C
1 x Type C
  Speaker
HD Audio, 2W Speaker x 2
  Power Switch
1 x power on/off button
  DC Input
1 x Mini Din 4P (DC+19v only)
 VariIO I/O Box & Expansion (Optional)
  Cash Drawer
1 x RJ-11 (Support DC +12V or +24V (default)) port supports 2 cash drawers
  LAN port
1 x Gigabit Ethernet by RJ-45
  USB port
2 x USB 3.0; 4 x USB 2.0
 Powered USB Port
 (Project Based)
2 x DC+12v Powered USB
1 x DC+24v Powered USB
COM Port
4 x RS-232 (jumper setting, support DC+0/5/12v, default setting is 0v)
 Type C
1 x Type C
OS Support
Windows 10 (64bit)  |  Windows 11 (64bit) (Option)
 Power Adapter (External Adapter)
Voltage:+19VDC, Std. 65 watt *PUSB will use 180 watt adapter
Voltage:+19VDC, Std. 90 watt
*PUSB will use 180 watt adapter
Compliance
Certifications
CE, FCC, LVD, RoHS
Material
Main Unit: Die-Cast Aluminum
Color
Main Unit: Space Gray / Black
Dimension
( W x H x D mm )
15″ – 370 x 300 x 236 mm ( POS ) / 370 x 287 x 55 mm ( PPC )
Environmental Conditions

Operating:  0°C ~ 40°C, 10% ~ 90% RH, non-condensing

Storage:  -20°C ~ 60°C, 10% ~ 90% RH, non-condensing

Optional Accessories
MSR  
ISO 3-Tracks Slim MSR USB Type
ibutton
ibutton  Dallas Key Reader,USB Type
RFID  
13.56Mhz USB Type 
Fingerprint
DigitalPersona U.are.U 4500 Module, USB Type
Scanner  
2D scanner, USB Type
2nd Display 
10.1 " Resolution 1280 x 800 (16:10 wide screen) USB Type, Touch / Non Touch
VFD
2×20 VFD, COM Type
Packaging  Carton
L460 x 300 x H510 mm
e-Brochure and Datasheet↓