Panel PC – Industrial Grade PPC
Panel PC designed to thrive in harsh environments and fit into any scenario.
SPPC-2150 21.5″ 16:9 Stainless Steel Chassis PPC
 Intel® Apollo Lake SoC with Integrated Chipset.
Projective Capacitive Touchscreen Full Flat Design.
Waterproof Power Button.
Rich and swappable I/O, 1 x LAN, 2 x USB, 1 x COM by M12 8-pin(male) with waterproof cover and chain.
IP66 Air pressure relief valve.
Metal Waterproof Connectors.
Wide Range DC in +12V ~ +24V.
Wide Temperature -10°C ~ 45°C.
Full System IP66, IP69K.
Multiple OS support (Win10, Linux).
Optional WiFi/BT with waterproof antenna.
Optional Auto Dimming/ High Brightness Solution.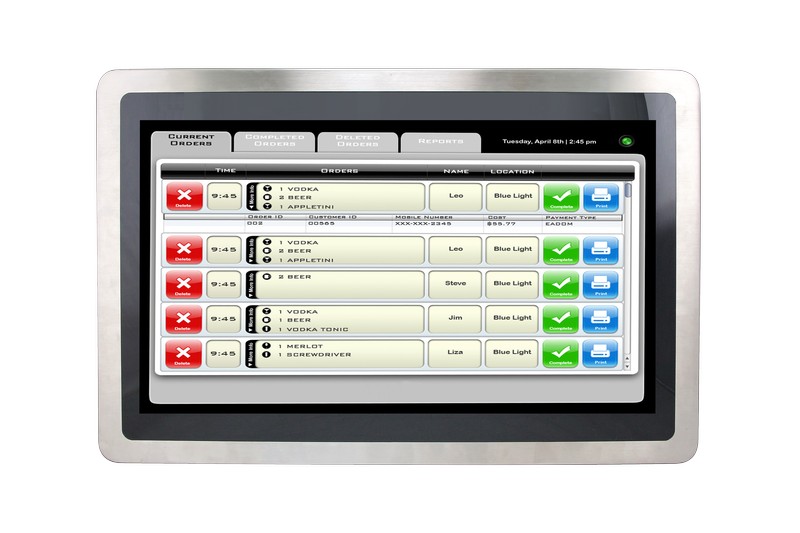 21.5″ Industrial Panel PC Designed for the rigors of industrial demands
Our Industrial panel PCs offer benefits to various industries, including their utilization as kitchen display systems (KDS). These rugged and durable devices are specifically designed to withstand harsh industrial environments, providing reliable performance in demanding conditions.
With robust hardware components ensuring efficient and smooth operation they offer intuitive interaction and ease of use. As KDS, industrial panel PCs streamline kitchen operations by displaying orders, timers, and special instructions, facilitating efficient communication between the kitchen staff and the front-of-house team. They enhance productivity, accuracy, and coordination, reducing errors and delays in food preparation.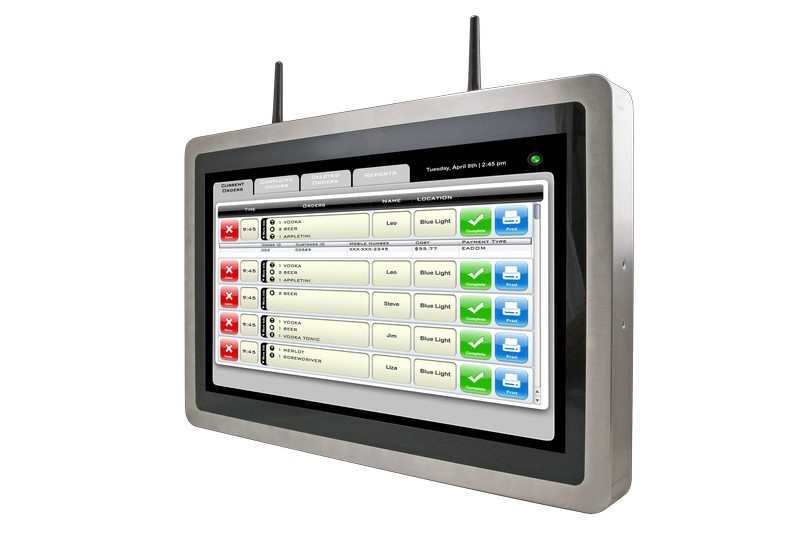 Operate in the Harshest Conditions Full System Protection
The IP69K rating is the highest level of protection available for products. It ensures that they are safeguarded against the entry of dust and high temperature, high pressure water. This certification is particularly useful in industries like food processing, where cleanliness is crucial, and equipment needs to withstand intense wash-down procedures. In such environments, the IP69K rating provides assurance that electronic circuits and instrumentation will not be damaged by heavy wash-down practices involving high pressure water and chemicals. The rating signifies that the product has undergone tests and is durable and resistant to harsh conditions.
Full protection in harsh environments
Deliver the Power to Perform

Intel® Celeron™
J3455
Apollo Lake
SoC

Fan-less
Architecture
Silent running &
prolonged lifespan

Full System
Protection

IP66/IP69K
Protection

Multiple Mount
Options

Wall, Pole & Stand
Mount Configurations
Versatile Mounting Solutions

The Greatest Flexibility for In-kitchen Layout
Minimize your technology footprint and maximize your work area in the constraints of any space restricted scenario. Our versatile mounting options deliver a modern attractive environment for any busy kitchen scenario.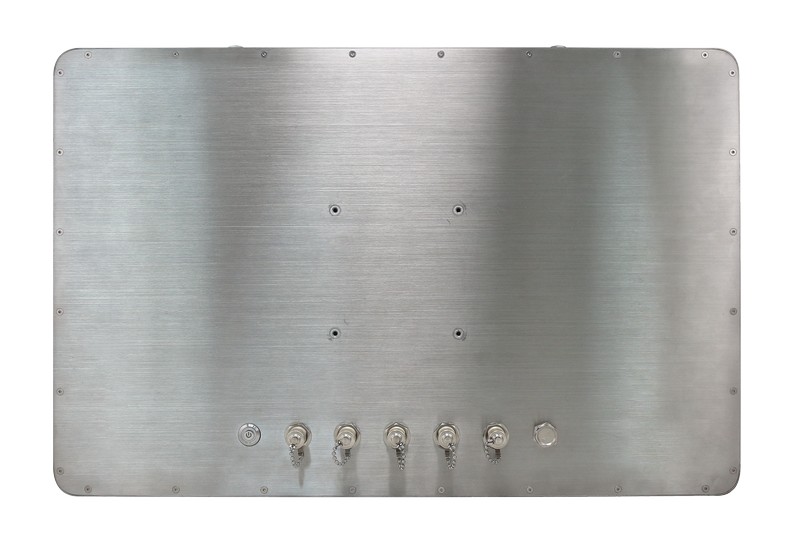 Peripherals

Peripherals for Demanding Kitchens
Peripherals like a bump bar solution can be used in conjunction with the Kitchen Display System (KDS).  The specialized keypad/touchpad allows kitchen staff to interact with the KDS system by « bumping » or marking orders as they are completed. The bump bar provides a tactile interface, enabling kitchen staff to easily navigate through the orders displayed on the KDS screens and mark them as prepared or ready for serving.
This streamlines communication between the kitchen and the serving staff, ensuring efficient order flow and minimizing delays. Our bump bar is designed for durability and can be customizable to match specific kitchen workflows, further enhancing the effectiveness and speed of order management in a busy kitchen environment.

Specification
SPPC-2150

  Main Board
SPPC-2150
  Processor
Celeron® Processor J3455
  Platform  Hub Controller
Intel Apollo Lake SoC integrated
  System Memory
2 x 204-pin DDR3L 1600MTs SO-DIMM up to 16 GB
  IO Chipset
EC ITE IT8528E
 Watchdog Timer
H/W Reset, 1sec. ~ 65535sec./1sec.step
  H/W Status Monitor
Monitoring SYSTEM Temperature and Voltage
with Auto Throttling Control
  TPM
Option for Infineon SLB9665 TPM 2.0
  SBC
EMX-APLP
  Display & Touch
  LCD Size
21.5″ Full HD 1920 x 1080 16:9  
  Resolution
1920 x 1080 (16:9), Full HD
  Brightness
250cd/m²
  Contrast Ratio
1000
  Viewing angle
89 (U), 89 (D), 89 (L), 89
  Touch
Projected Capacitive Technology

  Storage & Expansion
  Storage
Default with 64GB mSATA
1 x 2.5" Drive Bay for SSD/HDD(Project base)
  Expansion
1 x M.2 (2230) A-Key support WiFi module

  Panel I/O 
  LAN Port
1 x M12 8-pin (male) for LAN with waterproof cover and chain
  USB Port
2 x M12 8-pin (male) for 2 x USB 2.0 with waterproof cover and chain
  Com Port
 1 x M12 8-pin (male) COM(RS-232/422/485) with waterproof cover and chain
  SATA
1 x SATA III
  Other
1 x WiFi with waterproof antenna (Optional)
  OS Support
  Win 10, Linux
  Power Adapter

 +12V ~ +24V

  1 x M12 3-pin (male) for DC power with waterproof cover and chain

 Input: 100 ~ 240Vac/ 50 ~ 60Hz Output: 60W Adapter (24V @ 2.5A Adapter) AC-DC Adapter (Need waterproof M12/3Pin-  D2.5DCJack-Plug 200cm cable for M12 DC in connector)

  Compliance
  Certifications
CE, FCC Class A
 

Protection

Whole System IP69K, IP66
  Environmental Condition
  Operating
 -10°C ~ 45°C (14°F ~ 113°F), by flow = 0.5
  Storage
 -20°C ~ 60°C (-4°F ~ 140°F)
  Operating Humidity
40°C @ 95% Relative Humidity, Non-condensing
  Weight
9.4 Kgs
  Vibration Test
With SSD/mSATA : 1.5Grms, IEC 60068-2-64, Random, 5 ~ 500Hz, 30min/axis
  Shock Test
With CF/SSD : 10Grms, IEC 60068-2-27, Half Sine, 11ms
e-Brochure and Datasheet↓