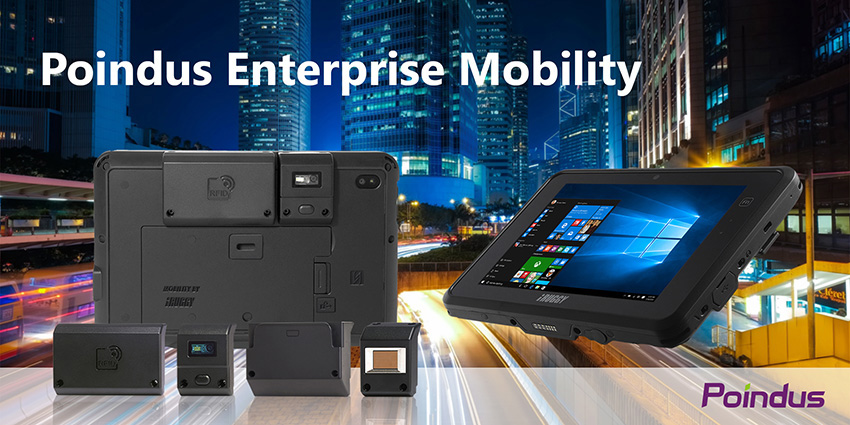 Poindus unveiled its newest Rugged Tablets to the global market expanding the mobility range to include two new tablet solutions designed for industrial applications.  The new incredibly durable Rugged G8s and G10s tablets bring even more application scenario possibilities to market.
The G8s & G10s rugged tablets utilize the Intel Quad Core x7-Z8750 Mobile chipset, giving users a mobile platform with access to a wide array of applications; combined with a long life 8,000mAh hot swappable battery for 24/7 operations. These tablets provide the flexibility and connectivity to perform multiple daily tasks on the go.
The two display sizes available are 8" and 10" combined with four user selectable touch modes, hand, rain, glove and stylus for use in virtually any environment.  The optional modules are easily integrated with the tablets providing wide modular expansion for data capture.
Key Features
Power & Performance
Intel Quad Core x7-Z8750
1,920 x 1,200 LCD panel with User-selectable touch mode sensitivity (Stylus, Hand, Rain or Glove)
Dual OS Support with Windows OS and Android
8,000 mAh long battery life, hot swappable for uninterrupted use during long shifts
Expandability
Peripherals
MSR Scanner:1D/2D Barcode Scanner (Optional)
FingerPrint:Capacitive fingerprint reader (Optional)
RFID:HF RFID reader (Optional)
LAN and COM I/O module
POS Docking Station
VESA charging mount
Vehicle charging mount
2mm precision tip stylus
Rear mounting bracket for mPOS devices
Elastic Hand Strap
Environment & Protection
IP65 rated protection and built to survive 1.2 meter drop testing (testing compliant with MIL-STD-810G)
Connectivity
WLAN, Bluetooth 4.0, and optional WWAN and GNSS
Wireless LAN with 2.4 & 5GHz to ensure your always connected
Bluetooth to wirelessly connect to devices like mobile printers
NFC
LTE to ensure your connected on the road
GPS for tracking and delivery
The G8s and G10s are rugged, lightweight devices with IP65 an MIL-STD 810G Protection making them deployable anywhere.