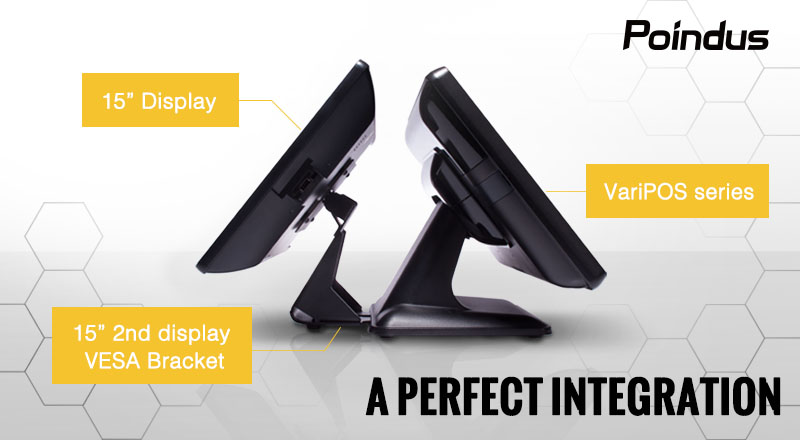 The merger between Poindus Systems Corp & OTEK System Co., Ltd. has maximized operational efficiency and effectiveness. Both companies' products complement each other perfectly and have expanded the Poindus products lines. The merger is enterprise commitment more than business competition; as a result providing a better user experience which aligns with our mission. High Quality products & service is the core value that Poindus wishes to convey to its customers, by providing superior products & service that exceeds customer expectations.
We present the perfect integration of the Poindus VariPOS, Tori series POS terminals & OTEK's Displays (7"~ 18.5"). We believe that the integration, VESA Bracket for OTEK's displays, will truly present both POS and 2nd display's advantages by leverage resources benefits to worldwide partners. The new VESA Bracket is compatible with standard VESA Mountable displays, and the material is manufactured using SECC steel (electro-galvanized steel) for durability.  Additionally, our belief in simple, easy installation of products, is a demand which we want to provide, enabling customers to set up themselves without engineer support.
Poindus continues to focus on innovation and design and will bring more products and peripherals to market to meet industry requirements for application expansion.
Our partners will have more combinations of POS terminals & displays expanding the scope of applications and scenarios they can deploy.
There are countless Poindus success stories in the hospitality & retail industry and we are looking forward to sharing our experience with you.
Poindus is a leading POS Brand and an industry driving force bringing the latest design developments and products to market.  We value our customers; therefore, every customer requirement is our responsibility.