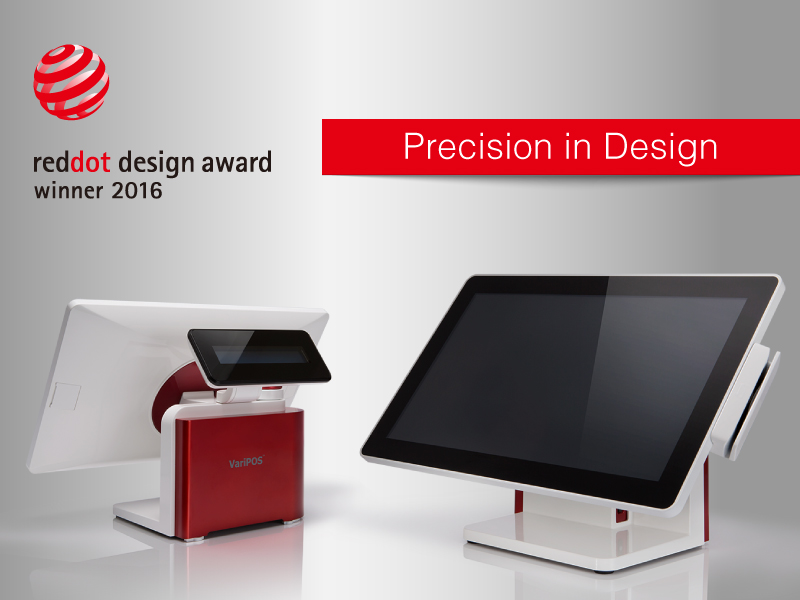 Taiwan, April 6th, 2016 – VariPOS 210 by Poindus Systems Corp.was awarded with the RedDot, the international distinction for high design quality. Participants from 57 nations had registered about 5,200 products and innovations for the Red Dot Award: Product Design 2016. Only products which set themselves apart considerably through their excellent design receive the sought-after quality seal from the international Red Dot jury.
The VariPOS 210 is a 14″ Hybrid Mobile POS system. It uses superior, lightweight die-cast aluminum to emphasize the elegant design, providing a sophisticated appearance for boutiques and fine dining restaurants. The VariPOS 210 emphasizes mobility in many regards. It is the first POS terminal which can be driven solely by a power bank. This feature can greatly help to lower the risk for data loss if the electricity unexpectedly shuts down. Users can easily transport the system to develop outdoor business such as sidewalk sales, or for mobile sales such as ice cream carts. The VariPOS 210 employs a low power consumption CPU, the Intel Bay Trail-T 3735F, which belongs to the mobile CPU series and allows extremely low power consumption while maintaining abundant power. The VariPOS 210 uses eMMC storage, which is more durable when compared a HDD, and implements a micro-SD expansion slot for data security. The VariPOS 210 expands the application scope for POS terminals and benefits users by expanding their outdoor business more conveniently.
Visit the Red Dot Award website to see more details about this prestigious honor.