All In One
Superior POS Systems, enabling you to respond to market demand.
VariPOS 250/270
POS built for the future
Full range of CPUs from Celeron to Intel 12th Gen. Core i3/i5
True flat 15" 4:3 / 17″ 5:4 LCD (LED backlight), 400 nits with IP66
RAID 0/1 function with dual SSD/HDD support (PE26 Option)
Patented swivel arm with flexible height/tilt adjustment for 2nd display and dual (left/Right) base mounting points
Dual Base Mounting Points for connecting 2nd Display, LCM or mPOS
Supports 2x12v, 1x24v Powered USB (Option)
Ultra slim front panel
Durable die-cast aluminum chassis; built to last
Redefines serviceability from design with easy access & quick swap modular design for SSD/HDD & MB box.
Peripherals compatibility across the whole VariPOS 2 Series: LCM, 10.1" 2nd display with patented double hinge, MSR, iButton, Fingerprint, RFID, PinPad Bracket
TSE Adapter for VariPOS (KassenSichV) Compliant
Modularized and Ultra Slim Design
15" 4:3   / 17″ 5:4 Display
The VariPOS 250/270 brings power and performance for retail applications with a range of Intel processors and a modularized design providing simple service and maintenance or upgrading futureproofing your investment.
Following the Reddot Award Winning design of the VariPOS 210P the VariPOS 2 Series introduces a new aesthetic to POS terminals that fits with the retail brand image.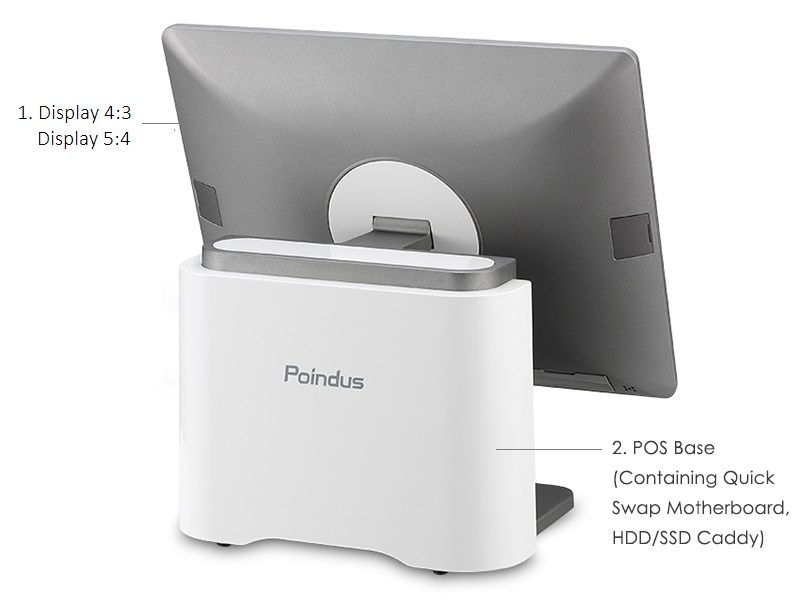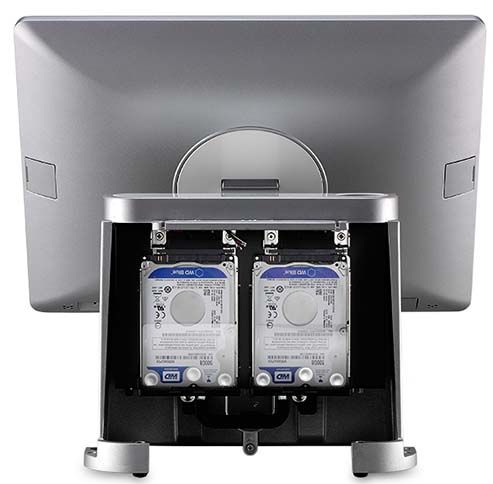 Robust Performance with Dual HDD Support for RAID Redundancy
RAID implementation allows for improved performance and redundancy giving your solution the resiliency to avoid downtime in your business. The VariPOS 250/270 provides cost-effective, high fault tolerance with disk mirroring and is seamless and simultaneous ensuring your critical business data is always safe (*PE26 option)
Full Range of Intel® CPU for
Processor Intensive Retail Applications
The VariPOS 250/270 is available with the Intel Celeron J6412 to 12th Generation i3 and i5 with Intel AMT for remote maintenance and secure drive ; and supports up to 64GB of RAM. The high speed connectivity through Intel Gigabit LAN and a rich I/O including Powered USB; combined with an IP66 True Flat Projected Capacitive multi-touch display ensures VariPOS 250/270 can support the most performance intensive retail or hospitality applications.

Full Range Intel Processors
Support for Microsoft Windows 10 (64bit) ensures compatibility with your preferred Windows software solution.

Intel AMT & TPM
Technology
Intel® AMT, Query, Restore, Upgrade, and Help Protect Devices Remotely.
Intel® TPM protect system & data with hardware/software-based security hardening.

Powered USB Connections
The I/O provides all kinds of connections you would expect from a high performance POS terminal including Powered USB for your retail peripherals and environments.

IP66
Spill Proof
Combined with full IP66 (Ingress Protection) dust and waterproof protection, is perfectly suited for the rigors of hospitality and retail environments.
Patented Double Hinged 2nd Display and Outstanding Extendibility with Companion Peripherals
The 10.1″ 2nd Display fits to the VariPOS 2 Series at either side of the POS base and is fitted with the new patented double hinge allowing for optimal positioning. The swivel arm with height and tilt adjustment brings a new level of flexibility pushing display limitations and connecting you directly with the customer.   The dual mounting points allow flexible configuration with two simultaneously mounted devices (2nd Display, LCM or mPOS).
The VariPOS 2 Series introduces common peripherals that are compatible across the range. Cross compatibility allows System Integrators to reduce peripheral inventory and deploy peripherals to sites easily with no compatibility issues. The VariPOS 2 Series provides a full range of companion peripherals including LCM, MSR, iButton, Finger Print, RFID and 2nd Display.
Tangible Service Benefits with Quick Swap and Maintenance
VariPOS 250/270 design provides quick and easy service for routine maintenance schedules, significantly reducing engineer onsite visit time. The modular design allows fast upgrade or replacement for motherboard/processor, display and SSD/HDD. The display can be easily detached from the base by thumb screw for rapid tool-less replacement. Simple Motherboard and SSD/HDD access has been implemented for easy maintenance with the quick service design
A proactive approach to servicing your technology will improve equipment effectiveness and increase lifespan; by simplifying the service process for System Integrators maintenance can be completed quickly and efficiently.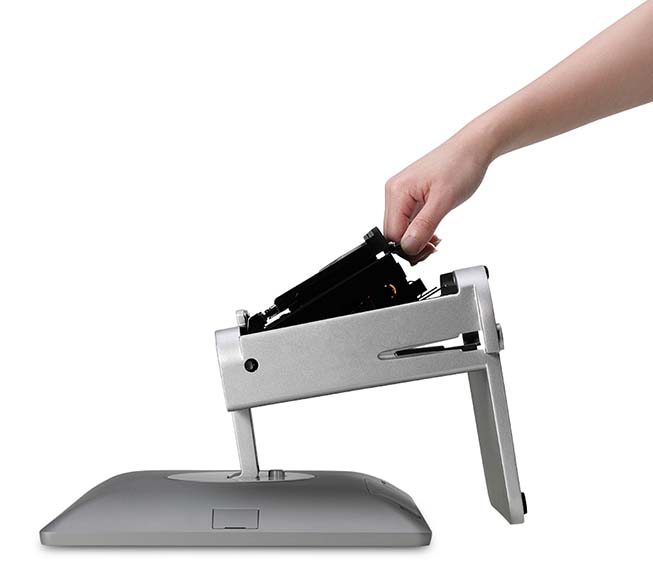 Specification
VariPOS 250/270 (PE24) (PE26)

  Main Board
 
VariPOS 250/270 (PE24)
VariPOS 250/270 (PE26)
  Processor
Intel® Celeron® J6412  
Intel® Alder Lake-P Platform
i5-1235U
i3-1215U
  Chipset
CPU Integrated
  System Memory
1 x SO-DIMM DDR4 slot, 4GB RAM as standard.  Max. memory support up to 16GB.
1 x 8GB DDR5 SO-DIMM memory
(Max.support up to 32GB)
  TPM
Intel F/W
  Intel AMT
N/A
i5 CPU Only
  Display & Touch
  LCD Size
15″ 4:3 TFT LCD (LED backlight)
17″ 5:4 TFT LCD (LED backlight)
  Brightness
400nits
  Resolution
15″ 1024 x 768 (4:3)
17″ 1280 x 1024 (5:4)
  Touch
True Flat Projected Capacitive Technology
  Storage
  HDD/SSD
1 x SATA III (2.5") or M.2 Storage (Option)
  RAID Function
N/A
Option
  Panel I/O    
  LAN Port
1 x Gigabit Ethernet by RJ-45
  USB Port
3 x USB 2.0, 3 x USB 3.1
  COM Port
3 x COM (COM 1/2: RG48 Support DC to 5/12v by BIOS Setting)
Default Setting is 0v, Com3: DB9
  Cash Drawer
1 x RJ11 (Support DC+12v or +24v (default)) port supports 2 cash drawers
  VGA
1 x DB-15 VGA Port
Power enable by BIOS setting (default disabled)
  Type C
1 x Type C
  Speaker
HD Audio, 2W Speaker x 2
  Power Switch
1 x power on/off button
  DC Input
1 x Mini Din 4P (DC+19v only)
 VariIO I/O Box & Expansion (Optional)
  Cash Drawer
1 x RJ-11 (Support DC +12V or +24V (default)) port supports 2 cash drawers
  LAN port
1 x Gigabit Ethernet by RJ-45
  USB port
2 x USB 3.0; 4 x USB 2.0
 Powered USB Port
 (Project Based)
2 x DC+12v Powered USB
1 x DC+24v Powered USB
COM Port
4 x RS-232 (jumper setting, support DC+0/5/12v, default setting is 0v)
 Type C
1 x Type C
OS Support
Windows 10 (64bit)  |  Windows 11 (64bit) (Option)
 Power Adapter (External Adapter)
Voltage:+19VDC, Std. 65 watt *PUSB will use 180 watt adapter
Voltage:+19VDC, Std. 90 watt
*PUSB will use 180 watt adapter
Compliance
Certifications
CE, FCC, LVD, RoHS
Protection
IP66 (Front Panel)
Material
Main Unit: Die-Cast Aluminum | I/O Cover:  Plastic
Color
Main Unit: Space Gray / Black / White
Dimension
( W x H x D mm )
357.7 x 325.03 x 196.55 mm
Environmental Conditions

Operating:  0°C ~ 40°C, 10% ~ 90% RH, non-condensing

Storage:  -20°C ~ 60°C, 10% ~ 90% RH, non-condensing

Optional Accessories
MSR  
ISO 3-Tracks Slim MSR USB Type
ibutton
ibutton  Dallas Key Reader,USB Type
RFID  
13.56Mhz USB Type 
Fingerprint
DigitalPersona U.are.U 4500 Module, USB Type
Scanner  
2D scanner, USB Type
2nd Display 
10.1 " Resolution 1280 x 800 (16:10 wide screen) USB Type, Touch / Non Touch
LCM
2×20 LCM, USB Type
VESA Bracket
Supports Display M Series
PinPad Bracket
Verifone VX820, Verifone P400/P200, Ingenico iCT250
Packaging  Carton
L460 x 300 x H510 mm
e-Brochure and Datasheet↓