All In One
PT Series POS Systems, respond to market demand.
PT52 The Space Saving POS Solution
 Support Intel 7th. Gen. CPU (Kabylake-U) and Celeron J6412 Processors
15" PCAP Touchscreen
IP54 Water and Dust Resistant Front Panel
3 Track MSR, Customer display and 2nd display monitor Available
Aluminum base with space reserved for a 3" Thermal printer
(see specification table below for reference printer list)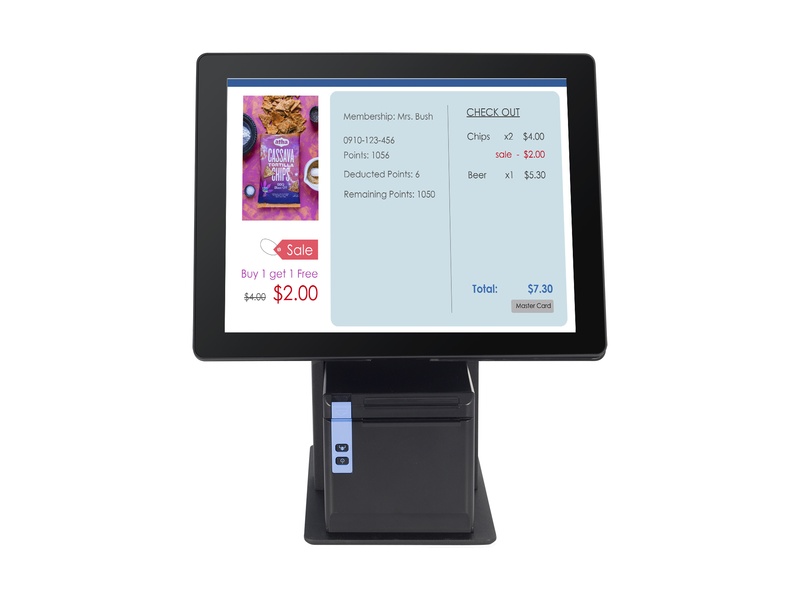 Compact Design, Full Functionality Excellent Performance and Stability
The PT52 provides a solid and robust platform with the functionality required to meet the demands of retail and hospitality.  This stylish modern design offers cutting-edge mechanical design such as hidden cable management and an aluminum base with space reserved for a 3" Thermal printer offering space saving and easy to manage counter space.  The PT52 delivers excellent performance and stability for retail operations with energy efficient processing to meet the demands of Point Of Sale operations and to enhance the customer experience
This stylish POS terminal  brings seamless integration for various peripherals such as MSR, Second Display and Customer Display a to meet all project requirements.
Deliver the Power to Perform

 Intel 7th Gen (Kabylake-U)
& Celeron J6412 Processors
Reliable Intel Processing

IP54 Ingress
Spill Proof
Front Panel IP54 (Ingress Protection) dust and waterproof protection

Robust
Stand

Stand for the perfect tilt adjustment

Multiple Mount
Options

Wall, Pole & Stand Mount Configurations
Maximize your Workspace Style without Compromise
With its compact footprint, the PT52 is the ultimate space-saving POS solution, freeing up counter space, enabling retailers to deploy in space restricted environments and allowing them to display more merchandise.  This is the perfect solution for any retail or hospitality scenario where space is at a premium.  Despite the compact design, the PT52 is a true "all-in-one" POS solution, with a 15″ display and allows retailers to integrate the most widely used peripherals for POS operations.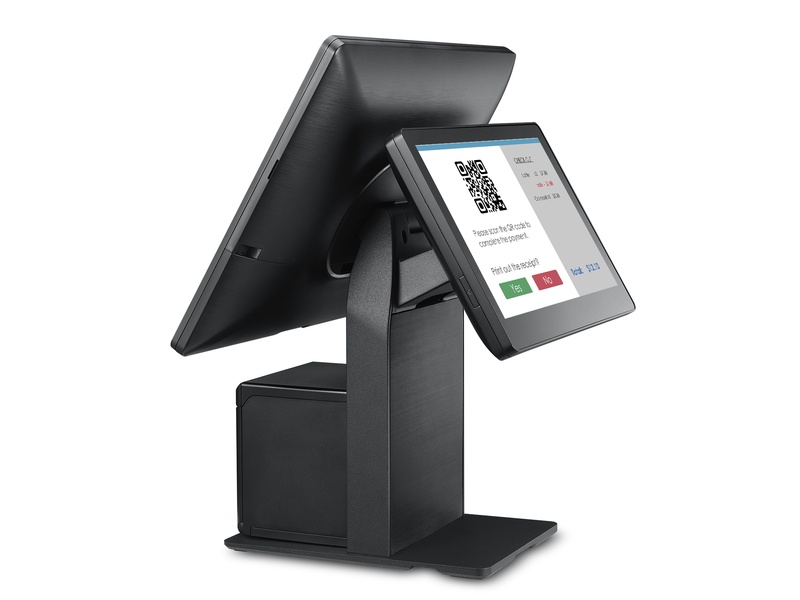 Specification
 

 PT52

  Main Board
MB-66
PE24
 Processor
Intel Kabylake-U Core i3
7020U/7100U
Intel® Celeron® Processor J6412
 Graphics
CPU Integrated
 System Memory
1x DDR4 SO-DIMM up to 16GB
1 x SO-DIMM DDR4 slot, 4GB RAM as standard. Max. memory support up to 16GB
  Display & Touch
  LCD Size
15″ TFT LCD
  Resolution
1024 x 768
  Brightness
300 Nits
  Touch
True Flat PCAP Multi-touch
  Storage
  HDD/SSD
1 x 128 GB SSD (M.2)
  External I/O Ports
  LAN Port
1 x Gigabit Ethernet by RJ-45 (10/100/1000 baseT)
  USB Port
4xUSB 3.0, 4x USB2.0
3 x USB 2.0, 3 x USB 3.1
  Serial
– COM1/2 (DB-9 RS232 supports DC
0V/+5V/+12V, C9 default setting is
DC 0V)- COM3 is DB-9, standard COM
port
3x COM (COM1/2: RJ48 support
DC+0/5/12v by BIOS setting,
default setting is 0v. COM3: DB-9)
 Cash Drawer
1 x RJ-11 (2 In 1)
1 x RJ-11 (Support DC +12V or +24V (default)) port supports 2 cash drawers
  VGA
1x DB-15 (support DC 0V/+12V,
selectable by BIOS, default setting is DC 0V)
1 x DB-15 VGA port Power enable
by BIOS setting (default disable)
  Speaker
1 x 2w (Option)
2 x 2w (Option)
  DC Jack
1x DC+12V jack with locked Screw

1 x miniDIN 4P (DC+19V only)
  Type-C
N/A
1 x Type C (PD + DP)
  Power Switch
1 x power on/off button
 Peripheral (Option)
 MSR
 3-Track MSR (USB Type)
 iButton
 iButton (USB Type)
 Customer Display
 LCM display 2 x 20 characters (USB Type)
 2nd Display
11.6″ / 220 nits / 1366 x 768, VGA Type
 RFID
USB Type
 Fingerprint
USB Type
 Mounting (Option)
 VESA Mount 75 x 75 / 100 x 100 mm
 OS Support
 Operating System  
Windows 10

Windows 10 (64bit)
  Power
  Power Adapter
60W / DC+12V input
DC+19V, 65watt adaptor
  Compliance
  Certifications
CE, FCC, LVD, BSMI, RoHS
CE, FCC, LVD, RoHS
  Protection
IP 54 on front panel
  Environment
 Operating Temperature
 0°C ~ 35°C (32°F ~ 95°F)
 Storage Temperature
 -20°C ~ 60°C (-4°F ~ 140°F)
 Humidity
 20% ~ 80% RH, non-condensing
 Dimension( Wx H x D mm) & Weight
 Dimensions: 360 x 330 x 199 mm
 Weight:  5.35 kgs
Reference Printer List
 Brand
Model
Dimension Max.  Printer Size –
W133 x D137 x H132mm
 HPRT
TP-808
132 x 137.3 x 130.5 mm
 Epson
TM-m30
127 x 133 x 129 mm
 Epson
TM-T70II
125 x 194 x 114 mm
 Bixolon
SRP-E300
132 x 182.4 x 128.5 mm
 Bixolon
SRP -Q200
103 x 104 x 109 mm
 Bixolon
SRP-Q300 / SRP QE300
128 x 125 x 125 mm
 e-Brochure and Datasheet↓