All In One
Superior POS Systems, enabling you to respond to market demand.
VariPOS 240
Same Spirit, New Scope
Energy Efficient Intel Celeron CPU J1900
Ultra slim 14" PCT multi-touch widescreen panel
IP66 Ingress Protection Front Panel
2x12v, 1x24v Powered USB (by request)
Patented swivel arm with extremely flexible height/tilt adjustment (Left/Right base mounting points)
Peripheral compatibility across VariPOS 2xx series:
10.1" 2nd display (Patented Double Hinge), LCM, , MSR, iButton, Fingerprint, RFID
Easy access & quick swap modular design for Display, Motherboard & SSD/HDD
Transform Your Business
with 14″ 16:9 Ultra Slim POS
The VariPOS 240 opens up a new scope of application possibilities with more power and performance in a fanless architecture combined with a sleek 14" widescreen display significantly increasing your wider viewing area, bringing new display and interaction opportunities.
Designed for rapid deployment in the retail and hospitality industry brings advances in design that fit most application scenarios and is perfectly suited for the rigors of multiple environments. The VariPOS 240 provides a solid and robust platform with the functionality you demand with the flexibility you need.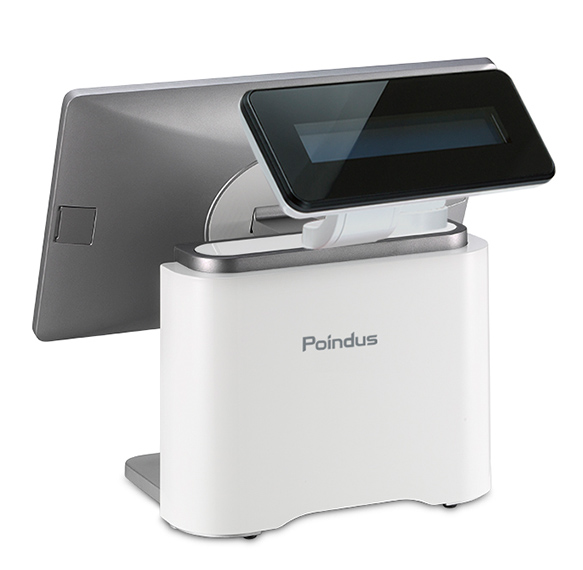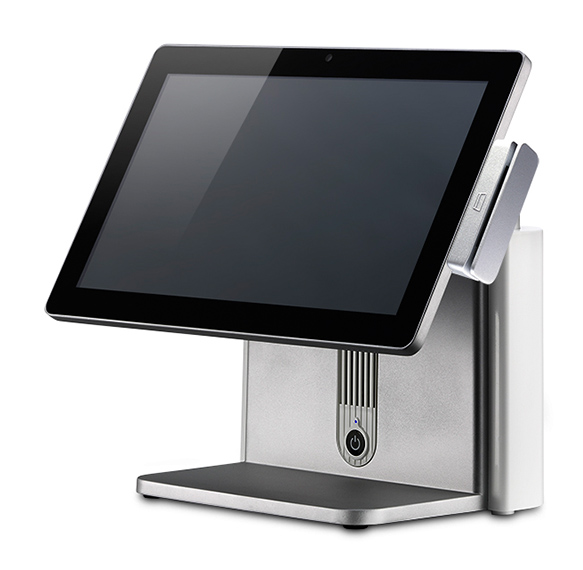 Same Spirit, New Scope
– in a compact form factor
The VariPOS 240 follows Poindus VariPOS 2xx Series design and brings a stylish aesthetic and a seamless brand look. The minimalist design provides a compact footprint for check-out areas that fits space restricted environments.
A stylish terminal that fits into any scenario with robust die-cast aluminum chassis available in silver, or dark silver with white IO covers with branding options to match your company image. With interchangeable 15″ 4:3 & 14″ 16:9 displays; leverage the power of the VariPOS 2xx Series and give your business the premium experience.
Modern aesthetic vision inspired by rapidly changing technology.
Long Lasting Consistent Performance
with Powerful features
VariPOS 240, powered by the Energy efficient Intel Celeron J1900 gives consistent high performance; a tried and tested specification that has a proven track record in the Retail & Hospitality industry. The terminal provides a retail ready I/O including Powered USB (*by request) and high speed connectivity through Gigabit LAN allowing for versatile configurations.
Microsoft platform support ensures compatibility with your preferred software solution. VariPOS 240 is resilient to retail operations, energy efficient with the power and performance to meet the demands of Point Of Sale operations. Low power consumption and a Fanless architecture provides benefit of long lasting consistent performance and ultimately prolongs the lifespan of the terminal.

J1900 & Microsoft Windows
Support for Microsoft Windows platform from POS Ready 7 to Windows 10 (32/64bit) ensures compatibility with your preferred Windows software solution.

FANLESS
Fan-less architecture has the benefit of silent running and prolongs the life of the terminal, ensuring a great return on investment.

Powered USB Connections
The I/O provides everything you would expect from a high performance POS terminal including Powered USB for your retail peripherals.

IP66 Spill Proof
Combined with full IP66(Ingress Protection) dust and waterproof protection, is perfectly suited for the rigors of hospitality and retail environments.
Patented Double Hinged 2nd Display
Featuring the new patented double hinged swivel arm allowing optimal positioning of the 10.1" 2nd Display on either side (left/right) of the POS base giving over 180 degrees left to right & up & down. Maximum comfort; extreme flexibility is attained with the swivel arm pushing display limitations of height and tilt adjustment enabling you to communicate directly with the customer at the Point of Sale.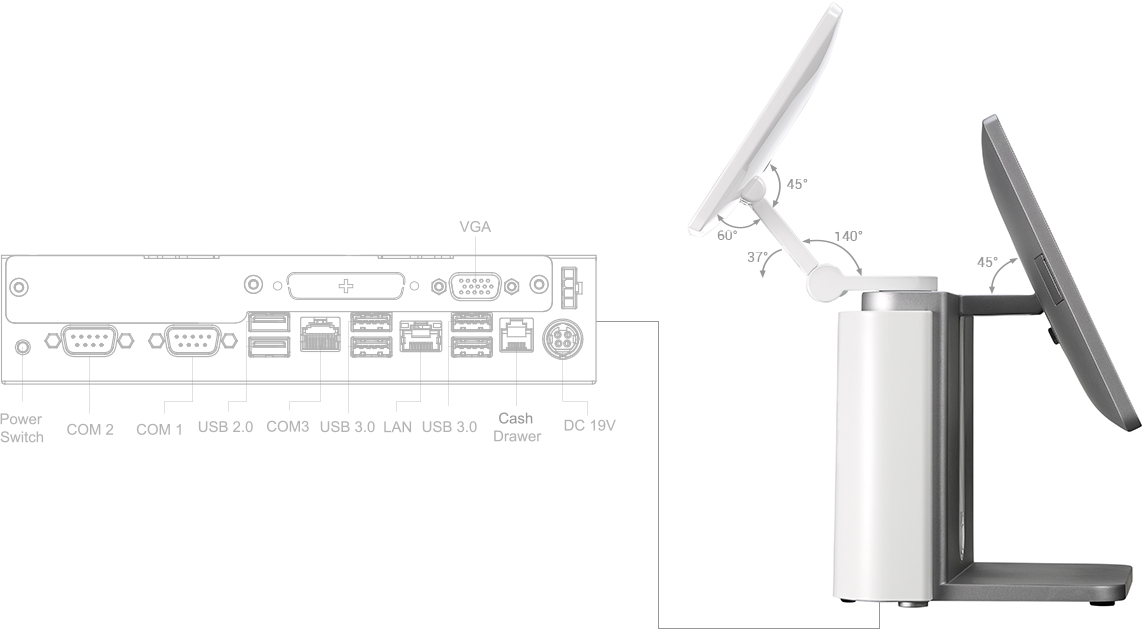 Improved Service Reduces Costs
Easy Access & Quick Swap Maintenance
VariPOS 240 delivers robust reliability for mission-critical store operations and the design provides quick and easy service for routine maintenance schedules, significantly reducing engineer onsite visit time. Fast upgrade or replacement for motherboard/processor, display and SSD/HDD is simplified with modular design. The quick service design reduces downtime and is easy to clean and maintain for the user.
Introducing common peripherals across the whole VariPOS 2xx Series, peripheral inventory and compatibility issues are minimized. The VariPOS 2xx Series provides a full range of companion peripherals including LCM, MSR, iButton, Finger Print, RFID and 2nd Display.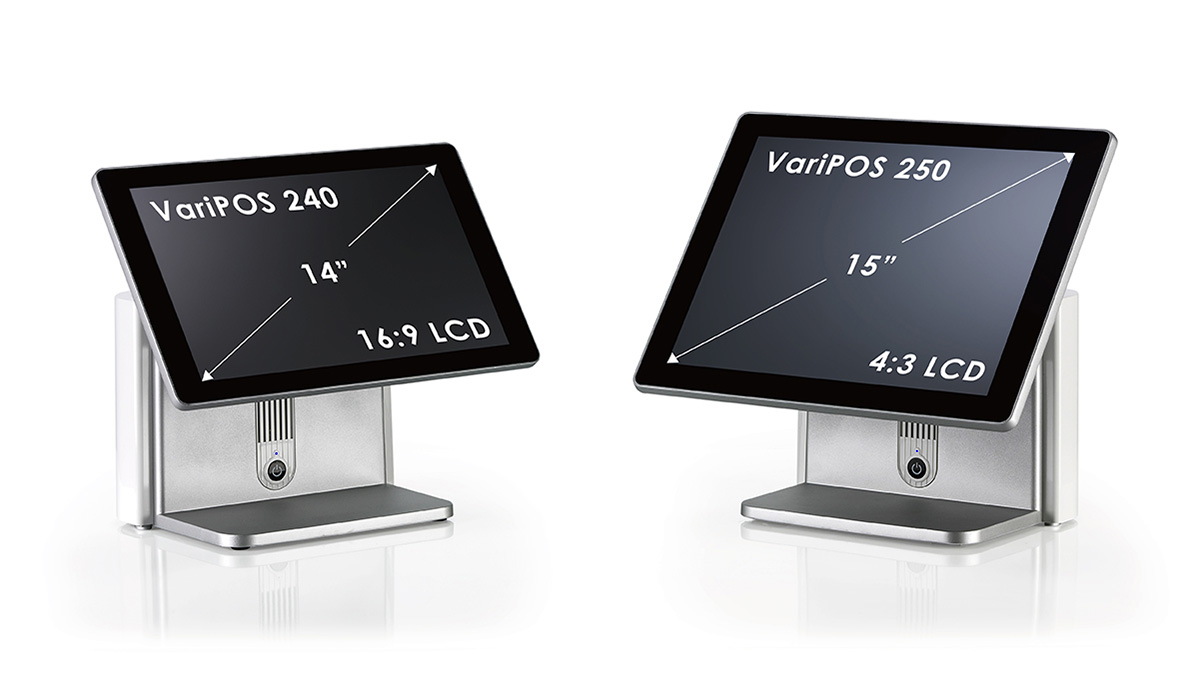 Specification
 

VariPOS 240 (PE20)

  Main Board
  Processor
Intel® Celeron® Processor J1900 
  Chipset
CPU Integrated
  System Memory
1 x SO-DIMM DDR3L slot, 4GB RAM as standard.  Max. memory support up to 8GB
  Display & Touch
  LCD Size
14″ HD 16:9 TFT LCD (LED backlight)
  Brightness
200 nits
  Resolution
1366 x 768 (16:9)
  Touch
True Flat Projected Capacitive Technology 
  Storage
  HDD/SSD
1 x SATA II (2.5") 
  I/O & Expansion
  DC Input
1 x Mini Din 4P (DC 19V only)
  Cash Drawer
1 x RJ-11 (Support DC +12V or +24V (default)) port supports 2 cash drawers
  LAN port
1 x Gigabit Ethernet by RJ-45
  USB port
4 x USB 3.0
2 x USB 2.0
  COM port
3 x RS-232(COM1/2:DB-9, COM3:RJ-48) w/DC 0V/+5V/+12V Selectable by BIOS 
  VGA port
1 x DB-15 w/DC +12V. Power enables by BIOS setting (default is Disable)
  Bus Expansion
1 x Mini-PCI-E Slot
  Power Switch
1 x power on/off button
  Speaker
HD Audio, 2W Speaker x 2
  OS Support
  Win10 2016, Win8.1, Win7/POS Ready 7 
  Power Adapter
  External adapter, DC Model : Voltage:+19VDC Std. 65watt
  Compliance
  Certifications
CE, FCC, LVD, RoHS
  Protection
IP 66 on front panel
  Material
  Main Unit: Die-Cast Aluminum 
  Color
  Main Unit: Dark Silver / White 
  Dimension( Wx H x D mm)
  357.7 x 325.03 x 196.55 mm
  Environmental Condition
  Operating
0°C ~ 40°C, 10% ~ 90% RH, non-condensing
  Storage
-20°C ~ 60°C, 10% ~ 90% RH, non-condensing
  Optional Accessories (More Information)
  2nd Display
10.1 " Resolution 1280 x 800 (16:10 wide screen) USB Type, White color
  Customer Display (LCM)
2×20 USB Type, White color
  MSR
ISO 3-Tracks Slim MSR USB Type
  ibutton
Dallas Key Reader USB Type
  RFID
13.56Mhz, USB Type
  Fingerprint
DigitalPersona U.are.U 4500 Module USB Type
  Carton
L460 x 300 x H510 mm
e-Brochure and Datasheet↓