All In One
Superior POS Systems, enabling you to respond to market demand.
VariPOS 210 / VariPOS 210 Plus
Reddot Design Award Winner
Intel® Baytrail-T CR Z3735F (1.33GHz,Cache 2MB) (210)
Intel® Cherry Trail x7-Z8750 Processor (1.60 GHz, 2M Cache) (210Plus)
14″ 16:9 True flat wide P-Cap touch screen (front panel IP66)
Integrated SD card local backup combined with disk imaging software (*210 only)
Able to be driven by an external power bank for uninterrupted service (*210 only)
Peripherals compatibility: LCM, 10.1"  2nd display, VariPAD 2nd Cradle, MSR, iButton, Fingerprint, RFID
Lightweight, die-cast aluminum chassis with an aesthetic design
Optional color case to match the individual shop design
Support Android 4.4.4 (210) or Android 7.0 (210Plus)
Red Dot Design Award Winner 2016
Energy Efficient Lightweight Native Software or Cloud (SaaS) POS Solution
The 14" VariPOS 210 is a sleek designed POS with an efficient Eco-friendly Quad Core processor that uses minimal power. Providing a solid base and generous 14″ display with a full range of integrated companion peripherals for your lightweight native software or Cloud (SaaS) POS solutions.
Red dot Design Award Winner 2016
" The generous display and extremely narrow frame of this POS system combine to create a stylish and minimalist overall appearance. "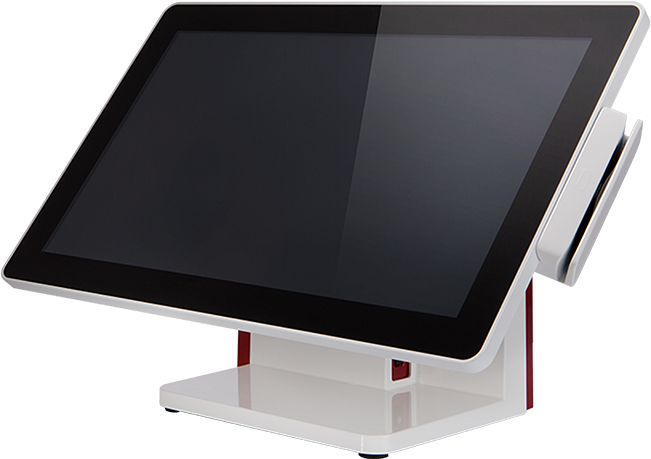 First POS System in the World
Powered by 5V 2.4A Power Bank
VariPOS 210 is the first POS terminal that can be powered by an inexpensive mobile power bank, enabling mobility and lowering the risk for data loss in the event of power outages. Users can easily transport the system for queue busting or use for pop up stores, food trucks or events.
No AC power outlet required.
*Power Bank Operation is only available on the VariPOS 210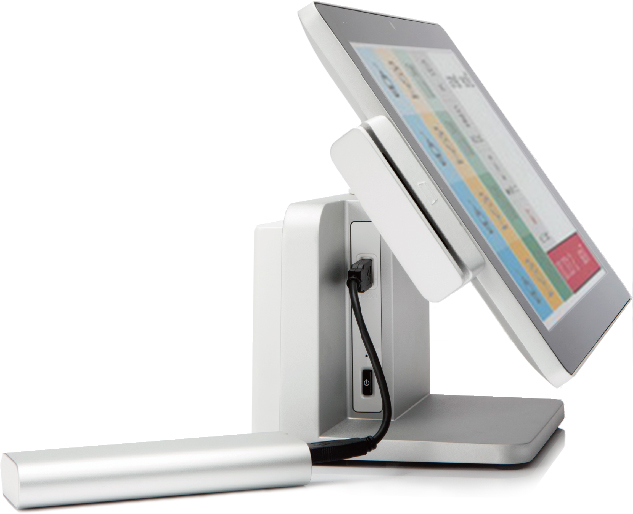 Intel® Mobile Chipset Supporting Android OS
for Retail & Hospitality Applications

Android
Seamless Integration
Android 4.4.4 is supported, providing the ideal platform for ISV and Systems Integrators to reduce development time.
VariPOS 210 Plus supports Android 7.0

Intel® Processing
Powered by Intel Bay Trail & Cherry Trail Processors for Energy Efficient Quad Core Performance
Compact Small Footprint Solution with
No Compromise on Functionality or Features
Designed for Android POS deployments, the 210 & 210 Plus provide a solid base and generous 14" 16:9 widescreen display with a a rich I/O interface.  The VariPOS 210 & 210 Plus brings a classic POS terminal solution to the Android Market.
Peripherals: LCM, 10.1" 2nd display, VariPAD 2nd Cradle, MSR, iButton, Fingerprint, RFID.
Power your business with the solution that utilizes low power technology.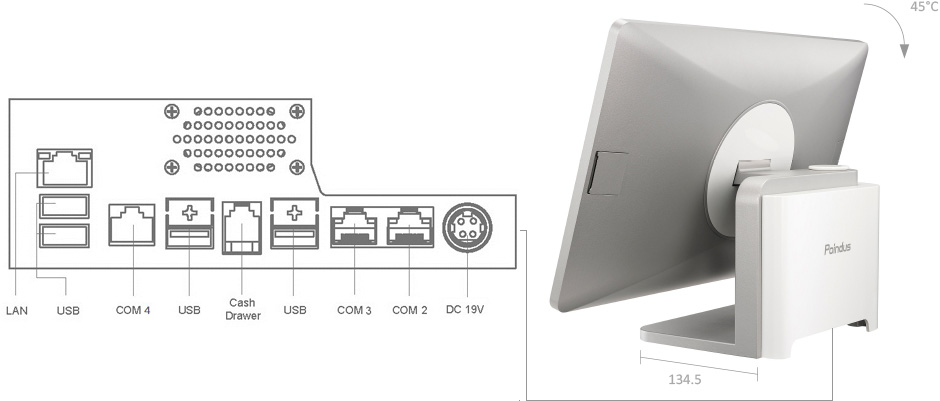 Seamless Service – Move Your Technology to Where It's Needed
VariPOS 210's small footprint allows minimalist sized installations such as Quick Service Restaurants (QSR), Cafés, F&B, Bakery's etc. and its Energy Efficient Power Bank operation (*VariPOS 210 only) allows multiple outdoor scenario implementation in Pop-Up Retail, Food Trucks or at Events. The functionality & aesthetics makes this solution a winner with many Retail Stores like Salons, Cosmetics, Jewelry, Boutiques and Book Stores. In the Hotel Industry it is perfectly suited for Reception Tasks such as Visitor Registration and booking.
VariPOS 210 can be quickly and easily switched to battery operation for Queue Busting or Outside Sales and can additionally be complimented with the VariPAD W, allowing the tablet to act as a 2nd Display or stand-alone Mobile Device

Specification
 

VariPOS 210 / 210 Plus

  Main Board
VariPOS 210
VariPOS 210 Plus
  Processor
Intel® Baytrail-T CR Z3735F  1.33GHz,Cache 2MB
Intel® Cherry Trail x7-Z8750 Processor (2M Cache, 1.60 GHz up to 2.56 GHz)
  System Memory
Android – 2GB DDR3L
4GB DDR3L
  Display & Touch
  LCD Size
14″ HD 16:9 TFT-LCD (LED Backlight)
  Brightness
200nits
  Resolution
1366 x 768
  Touch Technology
True Flat Projected Capacitive Technology
  eMMC
Android- 32GB eMMC
64GB eMMC
  SD
1 port (support up to 64GB)
N/A
  I/O & Expansion
  DC Input
1 x Mini Din 4P (DC 19V only)
  Cash Drawer
1 x RJ-11 (12V or 24V(default))
  LAN port
1 x Gigabit Ethernet by RJ-45
  USB port
2 x USB 2.0, 1 x 12V_PUSB, 1 x 24V_PUSB
4 x USB 2.0
  COM port
3 x RJ-48, RS232, Pin10(5V/12V/RI)
  Power Switch
1 x power on / off switch button
  Speaker
HD Audio, 1W Speaker x 1
1 x 2W Speaker
  OS Support
  Android
Android 4.4.4
Android 7.0
  Power Adapter
  External adapter, DC Model:
65W Watts, Voltage:+19VDC 3.42 Amax
  Compliance
  Certifications
CE, FCC, LVD, RoHS, WEEE, REACH
  Protection
IP66 on front panel
  Material
Main Unit: Die-Cast Aluminum ; Other Cover: Plastic
  Color
Silver-White & White-Red
Main Unit: Silver/ White
  Dimension( Wx H x D )
  358 x 144 x 254
 
  Weight
  2.9Kg
 
  Environmental
  Operating Condition
0ºC ~ 40ºC, 10% ~ 90% RH, non-condensing
  Storage Condition
-20ºC ~ 60ºC, 10% ~ 90% RH, non-condensing
  Optional Accessories (More Information)
  LCM
2×20 LCM, USB Type
  MSR
ISO 3-Tracks Slim MSR, USB Type
  iButton
Dallas Key Reader, USB Type
  Finger Print
DigitalPersona U.are.U 4500 Module, USB Type
  RFID
13.56Mhz, USB Type
  2nd Display
10.1 " Resolution 1280 x 800 (16:10 wide screen), USB Type, White color
  Power Bank
Input 5V
N/A – No Power bank operation available
e-Brochure and Datasheet↓
VariPOS 2 Series Family Brochure