Business Type: Food & beverage
Product: VariPOS
Country: Taiwan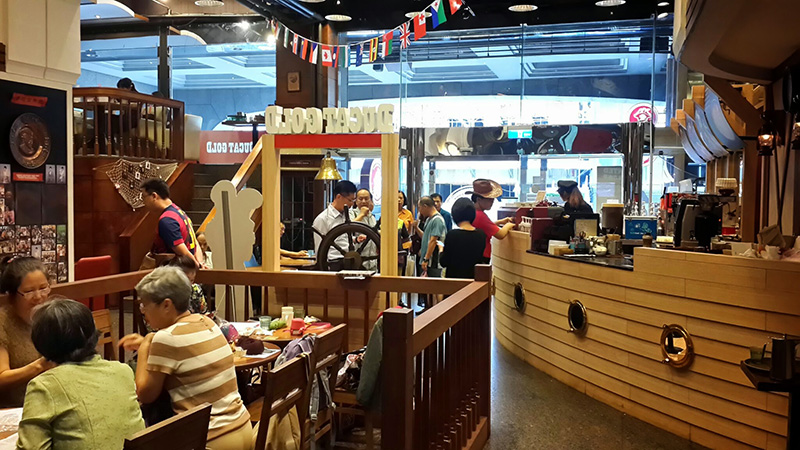 Who is Ducat Gold?
Located in the Heart of Taipei, Ducat Gold was established in 1999 and has been going strong ever since. Self-described as a Brunch and Dinner establishment, Ducat Gold is a popular Maritime-themed (sailors and pirates) restaurant serving a blend of American style cuisines; from unique breakfast sandwiches to the traditional bone-in pork chops with rice. Not only the menu featuring various breakfast items, appetizers, sandwiches & burgers, pasta  and steaks; not to mention the extensive drink menu including coffee, mixed drinks, smoothies, sodas, and more, Ducat Gold provides options for everyone.
What are their Challenges and Solutions?
Being such a popular place, Ducat Gold is in demand and welcomes walk-in visitors; however, they recommend a reservation in order to by-pass less-than-ideal wait times. As part of their purpose, they would like to optimize the reservation system, seating charts, and so forth. Additionally, given the popularity, they need to keep accurate track of inventory.
As for visibility requirements, the theme of Ducat Gold isn't most suitable for having a visible POS System, therefore introducing a POS system to the environment would not be ideal. Further, the floor plan is spacious; however, Ducat Gold does not want to use valuable floor space for this purpose, nor do they want to limit access to the machine… if must remain easily accessed by the staff so they can remain efficient.
Regarding the hardware itself, Ducat Gold boasts a very popular reputation. Given the likelihood that this machine will often be in use, a point of sale unit must be reliable and capable of performing advanced operations quickly.  Further, the environment allows for various types of accidents, from liquid spills to accidental bumping. The machine must be safe from such accidents, as well as durable and strong.

How did this benefit Ducat Gold?
When Ducat Gold decided to pursue a new POS System, they identified the need to not just replace their existing system, but they needed a significant upgrade. They did not look for a short term solution, they wanted a long-term solution.  They chose VariPOS because they did not need to compromise on their requirements.
VariPOS 715 is the system of choice for Ducat Gold for various reasons. They chose VariPOS for its style, for its reliability and for its performance. VariPOS is a unique All-in-one Point-of-Sale solution, in that it gives end-users the option of choosing various colors for the base and the I/O covers. Ducat Gold chose a black-on-black color scheme because this was the ideal solution to their environment. The small footprint, cable management and modern styling of the VariPOS 715 allows for the machine to not only blend into the workspace, but also allows for a clutter-free workspace while organizing the power & peripheral cables to be totally hidden from view.