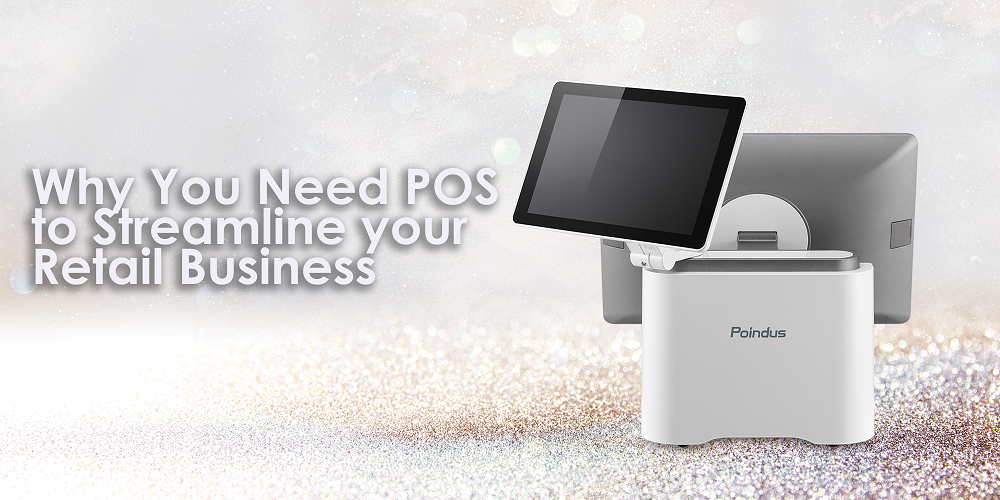 Why you need POS to Streamline your Retail Business
Retail stores operate on tight margins and managing all the individual parts of the business becomes increasingly time consuming and difficult as the business grows.  Being able to respond rapidly to customer demand, proactively manage inventory and pricing, and control critical business information across the whole retail operation, from the supply chain, customer interaction, and cash management; Retailers need business intelligence data to avoid missing out on opportunities to grow their business.
Efficiency. When your workforce have the right tools for the job, operations run more efficiently.  Providing a modern POS allows the cashiers to decrease checkout times and keep control of the queue.  A good POS terminal combined with the right software can transform a business and improve the customer experience.
Ease of Use and Staff Training. A major advantage with modern POS systems is the interface.  A touchscreen provides an intuitive cashier experience with minimal training resource.  The beauty of a clear graphical interface and simple big buttons for categories and products make training easy and lead to rapid checkout for the customer.  Most cashiers are very familiar with touchscreen technology in their daily lives, combined with an intuitive interface, most cashiers can learn the system quickly.
Accuracy. POS systems increase accuracy by eliminating the need to manually keying products and pricing. Removing human error from the equation leads to more accurate data across the whole operation. Data is in real time and price changes can be amended across all systems simultaneously saving hours when it comes the sales and promotions.
Reporting & Business Intelligence. Point of Sale systems have reporting systems that give you real time accurate data in your business, for any business owner having your eye on expenses, sales and profit in real time is a game changer.  Having the information you need to make data-driven business decisions allows business operations to become more efficient and give owners visibility on key performance indicators (KPI) like sales.  The ability to identify areas of the business that need attention and offer insights is crucial for any business competing in retail today.
Inventory Management. POS systems offer additional advantages over the traditional cash register with the ability of providing advanced inventory management.  Knowing your current inventory levels and offering auto reordering capabilities saves time and resources for managers who can focus their attention on the primary business of selling.
Employee Management. Another additional advantage of POS Systems are the management features like time-clock and employee time tracking allowing employees to clock in and out directly on the POS terminal using security measures like fingerprint and iButton ensure employee identity is verified for clock-in and clock-out.
Security Functions. A good POS system has in-built security to keep tight control of cashier actions, including voids and returns to minimize shrinkage from employee theft.
Payment Options. Having the ability to accept multiple payment types beside EMV allows for options like Apple Pay, Android Pay, Samsung Pay and other contactless NFC options will increase revenue and greater customer satisfaction.  As cash is increasingly replaced by plastic or apps, retailers need to ensure that their systems are capable of accepting new preferred payment methods.
Additional Marketing Opportunities. POS Systems can offer features like Customer 2nd Display that can continually offer promotions to the audience at the pay point, automatically cross selling based on the sale.  Additionally detailed receipts can be produced combined with coupons encouraging customers to return.
Customer Satisfaction & Loyalty. Today's customers expect the checkout processes to go smoothly, increasing customer satisfaction and offering customer loyalty schemes lead to higher customer retention.  Offering rewards will keep the customer returning to the store and enhance the whole shopping experience.  Loyalty schemes have a positive effect on sales and growth, and they are extremely cost effective.
A well implemented POS system can transform a business with faster service and streamlining the retail operation at many levels.  Lowering the cost of running the business and increasing productivity results in a fast return on your retail technology investment.
Poindus innovation & design bring the latest POS technology to the Retail & Hospitality Market and work to continually ensure we meet the needs of global retailers.  To find out more about Poindus are our VariPOS range of POS Systems visit www.poindus.com