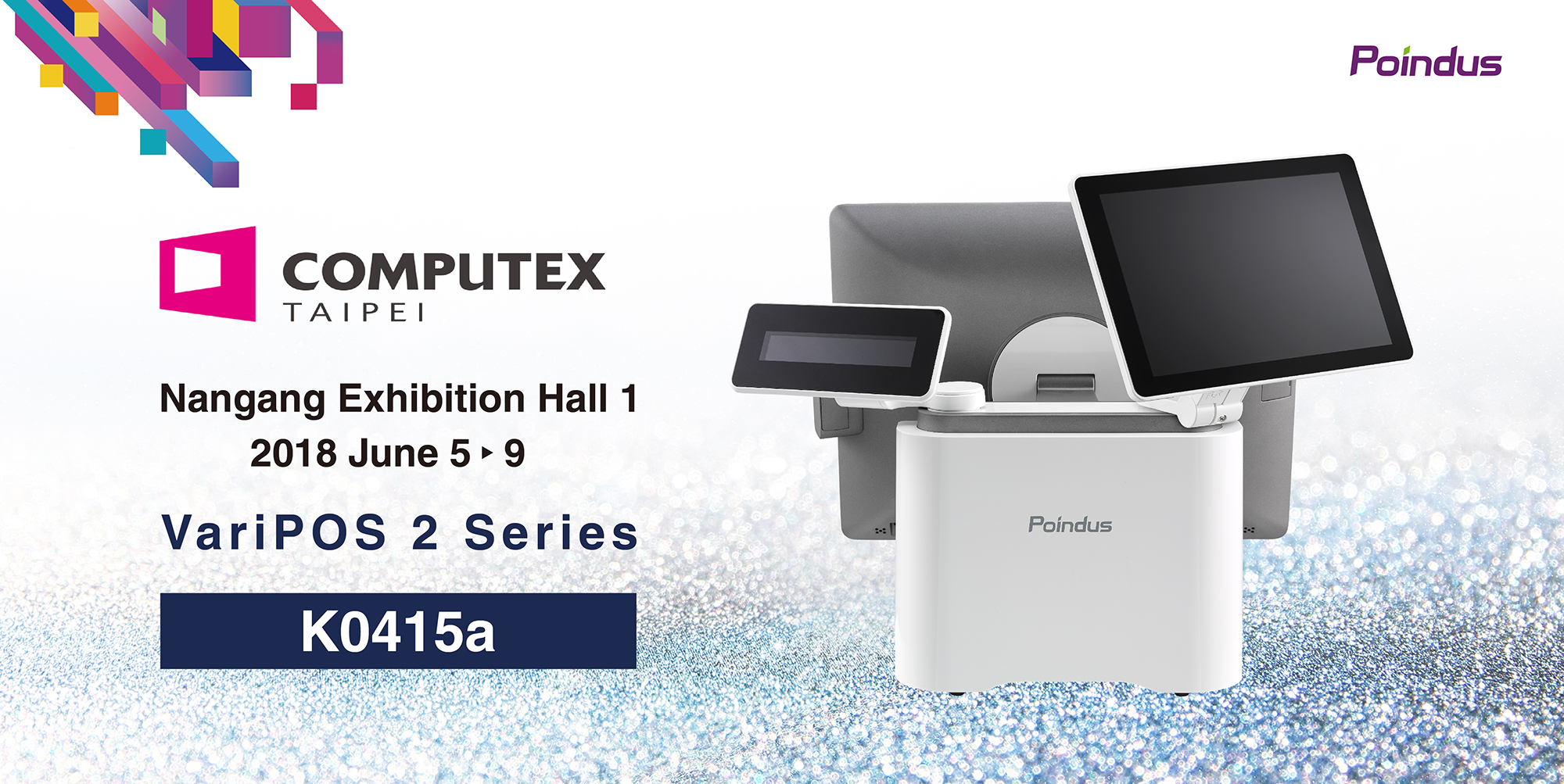 Poindus Showcasing VariPOS 2 Series at Computex 2018
Nangang Exhibition Hall 1, Stand K0415a – 5-9 June 2018
Poindus will be showcasing the new VariPOS 2 Series, the new generation of Point Of Sale (POS) technology.  Born from the design and innovation of the Reddot Award Winning VariPOS 210 Design, the new generation brings the 'Same Spirit, New Scope', and introduces the latest advances giving solution providers the performance and flexibility they demand. Along with our new POS series and Displays, we will be bringing our Rugged Enterprise Mobility to the show.
VariPOS 2 Series Quick Overview
VariPOS 210P – Designed for Android POS deployments, the 210P provides a solid base and generous 14" 16:9 widescreen display, offering a classic POS terminal solution to the Android Market.
VariPOS 240 – Energy efficient Intel J1900 CPU is a tried and tested solution for POS terminals, meeting many POS software processing requirements.  The 240 combines a 14" PCT 16:9 widescreen and the power & performance of the J1900 in style. (Display Interchangeable to 15″ 4:3)
VariPOS 250 – The power of Intel 6th Generation processing and RAID Redundancy, combined with an ergonomic True Flat 4:3 display makes the 250 a powerhouse that can meet the most intensive Retail & Hospitality software demands  (Display Interchangeable to 14″ 16:9)
VariPOS 250i – Intel 6th Generation fan-less architecture combined with a 15" 4:3 Display plus a customizable I/O Box allows the system integrator to overcome most project limitations and is the most flexible VariPOS in the range offering PPC (VariPPC 250i) configuration.
Poindus is a leader in the design and manufacture of POS, PPC, Display and Enterprise Mobility for the Retail & Hospitality sector.  Visit us at Computex to see the latest Retail & Hospitality Technology in action.
COMPUTEX TAIPEI is the leading global ICT and IoT show and is at the forefront of the industry's evolution, committing to serving as a platform for the convergence of technology resources around the world.  Taiwan, with strong R&D and manufacturing capabilities and IPR protection, is a strategic destination for foreign companies and investors looking for partners in global technology ecosystems.