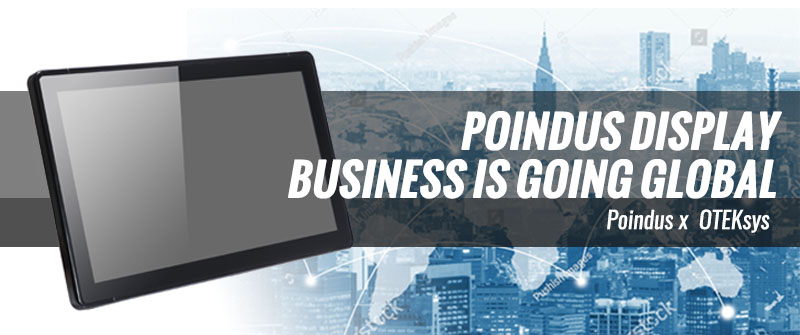 Poindus expanded the All-In-One POS product line to a diverse range in 2015. It was thanks to the merger between Poindus & Oteksys, the well-known professional global display brand. Poindus has achieved the goal to take Otek display business global and deliver excellent customer experience to our global partners.
Otek Displays are supported on Poindus All in One POS terminals like the VariPOS, ToriPOS & ToriPRO as 2nd Displays. The simple integration of both products has boosted customer loyalty and extended the scope of applications available.
Otek Display solutions are a strong brand that has been adopted in a variety of industries in industrial display territory.  Poindus will continue to invest in and support the Otek product line, and push the innovation of display technology in the future. Our partners can purchase Otek Display solutions from Poindus global distribution channels, bringing a powerful and globalized service network to our customers.
The supply of Otek display products through Poindus global distribution channels ensures customers  have a real-time communication with Poindus anywhere in the world. As industry leaders and respected brands for All in One POS hardware and Display Solutions, Poindus & Otek Display's mission is to create customer value through high quality innovative products and excellent customer service.
Otek Display is a product line within Poindus that extends Otek Display brand spirit to the international market; delivering display quality and product innovation without compromise. We are not satisfied with meeting market requirement but endeavor to   exceed customer's expectations.