Hardware that Complements the Needs of Industrial, Retail and Hospitality Professionals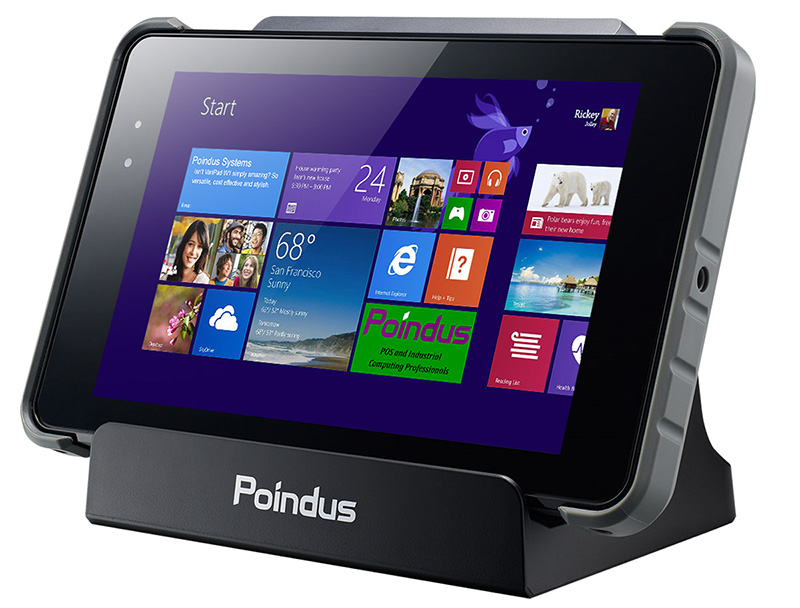 Poindus Systems Corp. has revealed the VariPad W1, a new Windows 8.1 based tablet system with extensive peripheral support, various connectivity options, and specifications that exceed industry standards.
Featuring the exceptional computing power and efficiency of the Intel® Bay Trail CPU coupled with a minimum of 2GB RAM, upgradeable to 8GB, VariPad is prepared to tackle even the most demanding software.  Running Windows 8.1 on a screen resolution of 1280×800 means that most Windows-based applications can be ported over with little or no modification. An ergonomic strap ensures that it fits comfortably in the user's hand and can be operated free of worry about dropping the device. As a hybrid POS solution, VariPad keeps most of the capabilities of a fixed POS system, adding mobility.
Additional features include a long-lasting, swappable battery that allows for long working hours before requiring a recharge.  A rear facing 5MP camera, as well as an integrated UPC barcode and 2D QR Code reader allow simple inventory and stock tracking, coupons, and related code entry programs. Encryption-capable MSR allows for card swiping, with support for credit cards, loyalty cards, membership cards and more. An additional card slot allows for accepting PIN-and-Chip cards.
Wireless Connectivity includes WLAN, Bluetooth and NFC, all of which allow easy integration into other peripherals, such as wireless printing and master-and-slave dual display.
"After releasing VariPad, the original version, in early 2014, our team put a great deal of effort into discovering exactly what functions, specifications and benefits were most important to end users and their suppliers. Poindus discovered key functions such as inventory and stocking reports were a major issue," says Wesley Chang, VP of Sales and Marketing. "The hospitality applications are obvious. We wanted a product that would include the responsibilities of retailers. With VariPad W1, we feel we have created a new standard."