All In One
Superior POS Systems, enabling you to respond to market demand.
ToriPOS
High End Computing
Intel® 3rd and 4th Generation CPUs i3 and i5
15" True Flat P-Cap Touch Screen
Dual HDD/SSD with RAID capability
Stylish Die-cast aluminum chassis
Efficient thermal ventilation structure and upward facing connection points and modularized components advancing serviceability
Peripheral Support: MSR, iButton, RFID, Fingerprint Reader, Smart Card Reader, 2nd display
Illuminated blue LED power indicator clearly showing system state
Powerhouse Computing with Leading Edge Intel Processors to Handle the Stress of Demanding POS Environments
Poindus ToriPOS is a super-compact, unique powerhouse All-In-One terminal that is deployable whatever your retail or hospitality demands. Designed with a sleek front panel and a compact computing module in the base.
ToriPOS is the choice for processor intensive software that requires the best performance. The efficient thermal structure allows leading Intel® CPU options to be integrated inside.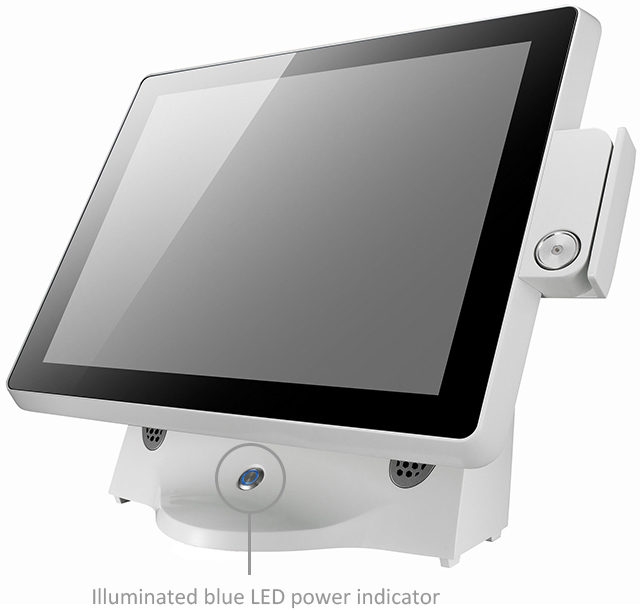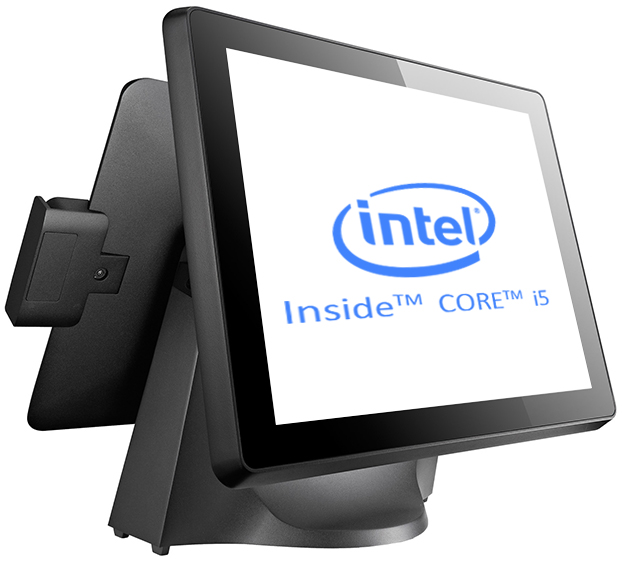 Data Security & RAID Redundancy with Poindus High-End Computing
ToriPOS has been designed for Mission Critical Systems that require powerful performance and RAID redundancy.
Retailers require data security and protection; in the event of HDD/SSD failure a Redundant Array Of Independent Disks (RAID) offers protection and allows the terminal to stay in action, essential in the busy retail environments
RAID 1 using two HDD/SSD functions as an exact mirror and will continue to operate as long as at least one member drive is operational
*RAID Redundancy should NOT replace a daily backup
Outstanding Extendibility with Rich I/O Interface and
Full Range Of Companion Peripherals
ToriPOS full range of companion peripheral devices, including MSR, iButton,
RFID, VFD, 2nd Display… etc., consistent with the ToriPOS style and seamlessly
integrated at the sides of the touchscreen for an intuitive user experience.
The fully integrated interfaces are configured and ready, active management
technology compliant, 2 HDD/SSD and RAID storage redundancy for
data security.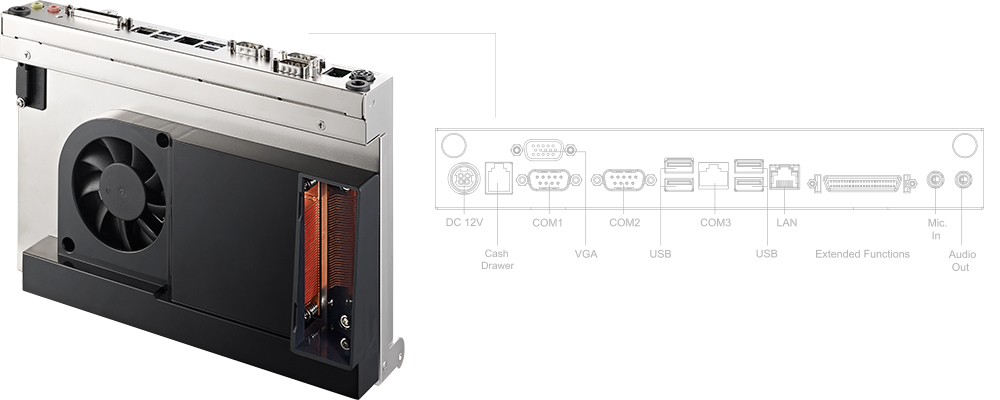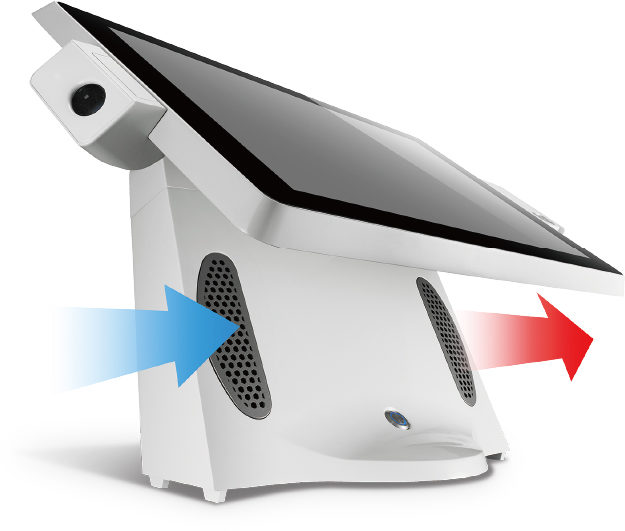 Designed for Efficient Thermal Dissipation Providing System Stability
Poindus ToriPOS provides frameless and robust glass suited for bars, restaurants, specialty stores as well as retail shops. Exceptional thermal dispersion structure manages the heat well circulation and achieves perfect harmony of performance and reliability. It's designed for those who require perfection and demand total functionality.

Long-term Equipment Planning
Reducing Maintenance & Service Schedules
Serviceability was engineered specifically to be among the most convenient in the industry through modularized components in 2 main parts: the touch display and the computing box. Poindus ToriPOS minimizes technician levels and labor efforts. The HDD/SSD is located away from the motherboard; reducing heat, and providing easy access. The upward-facing peripheral connections simplify the installation and maintenance.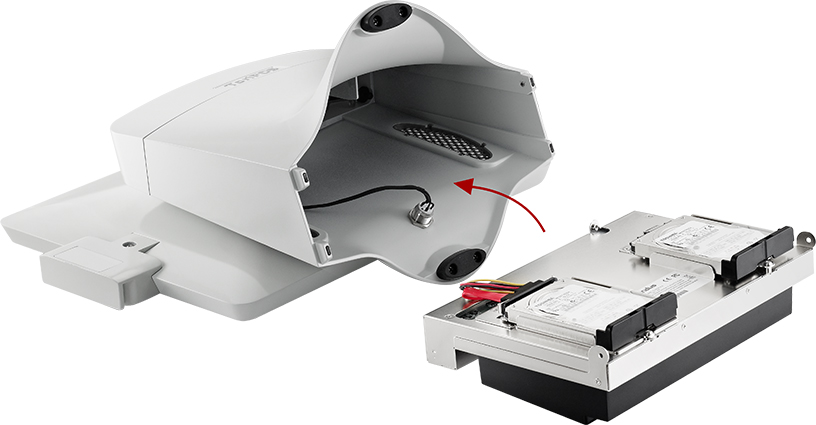 Specification
 ToriPOS

  Model Name
  ToriPOS 815、ToriPOS 915、ToriPOS 950
  Main Board
  Processor

ToriPOS 815:

Intel® Celeron G540 2.5GHz ,Cache 2MB
Intel® Core i3-3220 3.3GHz,Cache 3MB

ToriPOS 915:

Intel® Core i5-3550S  3.0GHz ,Cache 6MB

ToriPOS 950:

Intel® Haswell i5-4570S 2.9G, L3 6M, TDP 65W
Intel® Haswell i3-4330 3.5G, L3 4M, TDP 54W
Intel® Haswell Celeron G1820 2.7G, L3 2M, TDP 53W
  Chipset

ToriPOS 815:

Intel® H61 Express

ToriPOS 915:

Intel® Q77 Express

ToriPOS 950:

Intel®  Lynx Point PCH Q87 (AMT technology )
  System Memory

ToriPOS 815、ToriPOS 915:

1 x DDRIII 1600 DIMM, up to 8GB

ToriPOS 950:

2 x SO-DIMM DDRIII 1600MHz, up to 16GB
  TPM

ToriPOS 815、ToriPOS 915:

N/A

ToriPOS 950:

YES
  Display & Touch
  LCD Size
15″ TFT LCD(LED backlight)
  Brightness
350nits
  Resolution
1024 x 768
  Touch Technology
True Flat Projected Capacitive Technology
  Wireless Networking
  Wireless LAN
N/A
  Bluetooth
N/A
  Storage
  HDD/SSD

ToriPOS 815

1 x SATA (2.5") HDD or SSD

ToriPOS 915、ToriPOS 950

2 x SATA (2.5") HDD or SSD
  RAID Function

ToriPOS 915、ToriPOS 950

RAID 0 / RAID 1
  I/O & Expansion
  DC Input
1 x Mini Din 4P (DC 12V only)
  Cash Drawer

ToriPOS 815、ToriPOS 915:

1 x RJ-11 (Power Pin 12V)

ToriPOS 950:

1 x RJ-11 (12V or 24V(default))
  LAN port
1 x Gigabit Ethernet by RJ-45
  USB port

ToriPOS 815:

4 x USB 2.0

ToriPOS 915:

4 x USB 3.0

ToriPOS 950:

2 x USB 3.0, 5 x USB 2.0

ToriPOS 950P:

2 x Power USB 12V, 1 x Power USB 24V, 2 x USB 3.0, 2 x USB 2.0 (Customize)
  COM port

ToriPOS 815、ToriPOS 915:

3 x RS-232(COM1/2:DB-9, COM3:RJ-48) w/ RI/5V/12V Selectable by BIOS (default is RI)

ToriPOS 950:

3 x RS-232 w/ RI/5V/12V power , (COM1~COM3 : RJ-48)
  Audio port
1 x Line-out ; 1 x Mic-In
  VGA port

ToriPOS 815、ToriPOS 915:

1 x DB-15 VGA port

ToriPOS 950: 

1 x DB-15 VGA port, Power enabled by BIOS setting (default disable)
  Bus Expansion
1 x Mini-PCI-E Slot
  Power Switch
1 x power on / off switch button
  Speaker
HD Audio, 2W Speaker x 2
  OS Support

ToriPOS 815、ToriPOS 915:

Windows 8.1, Windows 7, POSready 7

ToriPOS 950:

Windows 10 IOT, Windows 8.1, Windows 7, POSready 7
  Power Adapter

ToriPOS 815、ToriPOS 915:

External adapter, 120 Watts, +12VDC 10A max.

ToriPOS 950: 

External adapter, DC Model : 120Watts, Voltage:+19VDC 6.32 Amax

ToriPOS 950P: 

External adapter, DC Model : 180 Watts, Voltage:+19VDC 9.47 Amax (Customize)
  Compliance
  Certifications

ToriPOS 815、ToriPOS 915:

CE, FCC, LVD, RoHS

ToriPOS 950:

CE, FCC, LVD, RoHS, WEEE, REACH
  Protection
IP 66 on front panel
  VESA Mount
N/A
  Material
Main Unit: Die-Cast Aluminum ; I/O Cover:Plastic
  Color
Main Unit: White / Black
  Dimension( Wx H x D )
375 x 322 x 259
  Weight
7.8Kg
  Environmental
  Operating Condition
0ºC ~ 40ºC, 10% ~ 90% RH, non-condensing
  Storage Condition
-20ºC ~ 60ºC, 10% ~ 90% RH, non-condensing
  Optional Accessories (More Information)
  VFD/LCM
VFD: 2 x 20 attached
  MSR
Front, 3 tracks RS-232 Type or PS/2 Type
  MSR & iButton
MSR-Front & iButton, RS-232 Type or PS/2 Type
  iButton
RS-232 Type or PS/2 Type
  SCR
USB Type
  Finger Print
USB Type
  RFID
USB Type, 13.56MHZ
  2nd Display
10.4″ Resolution 800 x 600
e-Brochure and Datasheet↓