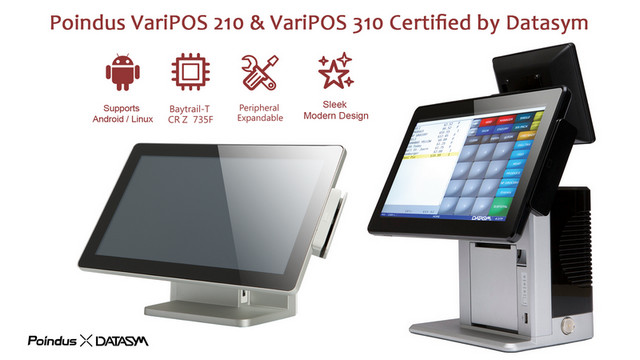 Datasym PRO software is a highly versatile and flexible Point of Sale software solution that has been perfected over 30 years. By powering the Varipos 210 or Varipos 310 POS terminal from Poindus with Datasym PRO software, retailers have the flexibility to customize their checkout to suit the unique needs of their business, both today and as the business grows. Datasym PRO software services a variety of market places including; retail, quick service hospitality, liquor, thrift, specialty retail, grocery, health care, cafeteria, institutions, and many more. Datasym PRO powers the Varipos 210 and Varipos 310 terminals on a Linux platform, offering retailers efficient high-speed transaction processing and greater security against external threats.
Poindus and Datasym have partnered together to provide retailers with a complete Point of Sale solution that they can feel confident in to grow their business.
Poindus VariPOS 210 & VariPOS 310 are fanless All-in-One POS terminals combining the Intel Bay Trail-T CR Z3735F CPU with 14″ capacitive touch (PCT) widescreen display. Both VariPOS 210 & VariPOS 310 are seamless integration for existing POS software with Android OS  (or Linux with Datasym PRO software) reducing development time and simplifying integration to the existing infrastructure. VariPOS 210 is a sleek design featuring energy efficient Quad Core CPU that can be powered by mobile power-bank; and VariPOS 310 has an integrated 3" receipt printer.