Business Type: Food & Beverage
Product: VariPOS 210
Country: USA
It's a global trend to incorporate delicious and nutritious juices into your diet as part of a healthy living lifestyle and consumer behavior shows that the trend for 'health and well-being' products has increased in popularity.
The Challenge
A juice chain store in California caters to the demand for healthy nutritious juices made from the local produce supplied by local independent farmers. The stores goal is to supply nutritious, premium juices in a simple and convenient way. The store design is modern, simple and stylish and this features in all aspects of the brand image throughout the products, containers and packaging.  When choosing the POS Systems, they demanded the same aesthetic to match the company image.
Why Select VariPOS 210
The owner searched for an elegant POS terminal with the performance and reliability to support the demands of their retail software. He said our shops have a very modern, sleek look and want the POS equipment to match that style.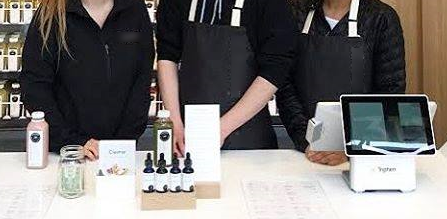 "The VariPOS 210 small footprint form factor in a silver-and-white case gave the look we wanted." -The owner says.
After evaluating various solutions, the store selected the Poindus VariPOS 210 to deploy as their new POS solution. The VariPOS 210 was selected not just for its performance and reliability, but also its aesthetics.
The application
The store initially installed 3 Poindus VariPOS 210 14-inch POS terminals, each running the retail software and featuring a 10-inch customer facing display for the initial trial. After the successful trial period; VariPOS 210 has been rolled out at all the store locations in California.
VariPOS 210 is perfectly suited for the juice chain store and is a great example of how VariPOS 210 fits into a fast-moving consumer goods (FMCG) scenario. Poindus is a leading innovator of Retail & Hospitality technology and you can read more successful cases on our website and see where Poindus innovation can help your business grow.