Business Type: Bakery
Product: Poindus VariPOS 310 14" POS system with built in printer
Country: Germany
Kamps GmbH opened the first bakery shop in Dusseldorf in 1982. Today Kamps has operated over 390 bakeries that have developed a range of traditionally and freshly made products. On top of it, there are over 70 Kamps backstube bakeries allocated across Germany. As a result, Kamps is now the Top One traditional bakery chain in Germany.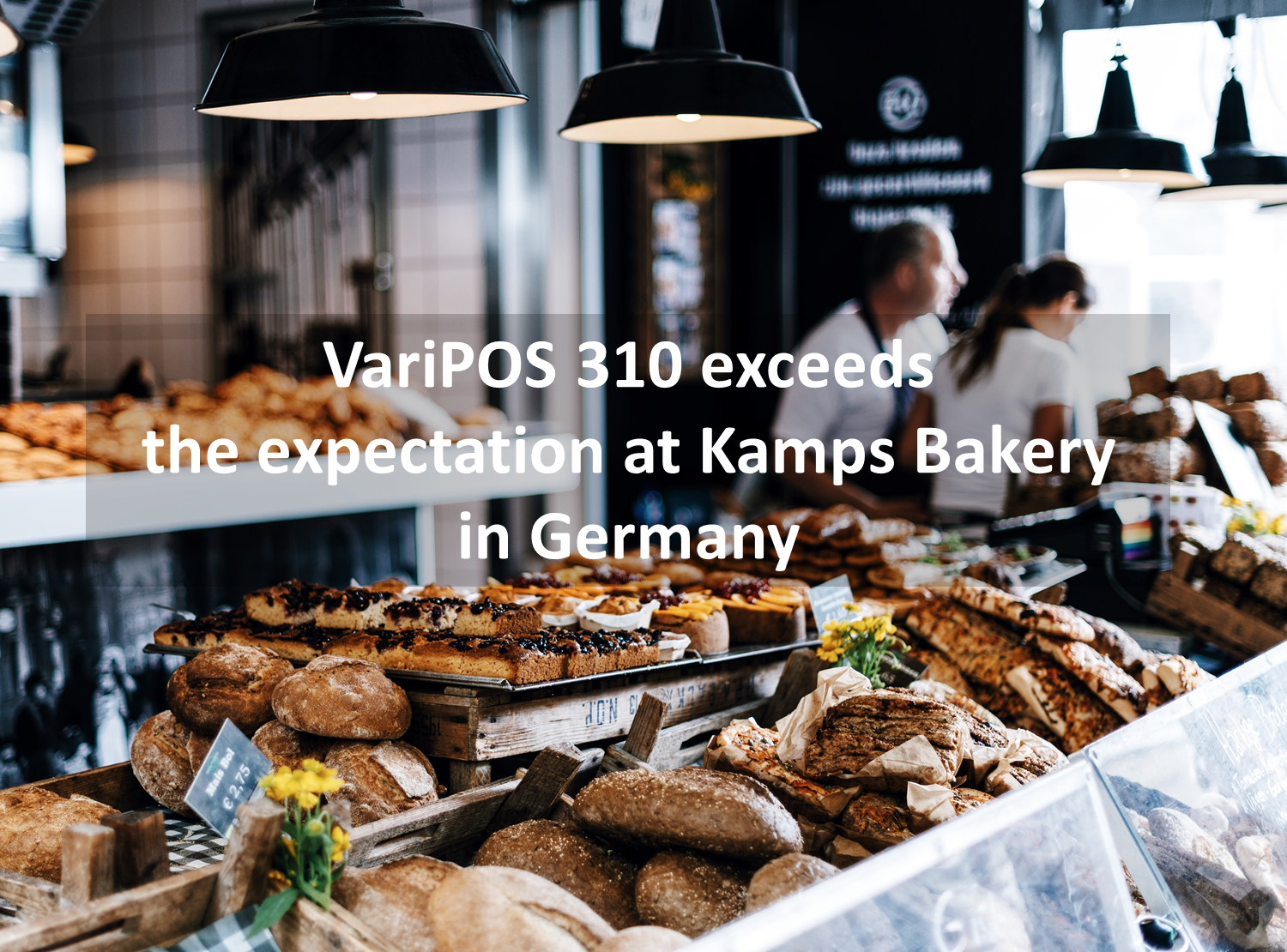 The Background
The legal barriers make it necessary for retailers to invest the operation equipment. At the end of 2015, Germany has announced of the tax changes and new regulations in the field of digital operation and introduced at 2017.01.01. In addition, Kamps Bakery considered that the customer should not adjust to checkout, but the checkout service must correspond to customers. Both of the statements were the reasons that Kamps Bakery decided to reload the POS solution.
The Challenge
It was a major & remarkable replacement project, since Kamps GmbH operates as franchising store, and owns 390 branches in Germany. They preferred Poindus VariPOS 310 and attach Poindus M354NC as 2nd display. The essential elements of this case are the infrastructure in the bakeries, the selection and installation of the hardware, and the software adjustments.
The Benefit
Our team has delivered the high performance POS terminal & quality service, including the IT infrastructure and hardware implement. Now, Kamps GmbH enjoys the outcome of upgradation and VariPOS 310 creates efficiency & value of checkout service for the bakery.
Change is always painful and takes time to adopt. VariPOS 310 offers the built-in printer as compact POS system, that Kamps is able to handle taxation process and customer checkout without needing to change how the business had work.
Poindus makes it easy for bakery operator to handle checkout process regardless of week days or weekend. The integrated POS system allows a larger workstation at each shop and let staff to handle packing process easily, in turns, help bakeries to pick up the customer repeatedly.
VariPOS 310 offers P-CAP technology with maximum response time, additionally, the low power quad core processor and small foot print is friendly to environment; best of all, and the store electricity bill is minimized in long term.
VariPOS 310 is a POS paradigm for baking industry, for example, a hybrid system (Android & Win), flexible structure (full peripheral support), and 2nd display attachable.
Poindus is a growing hardware manufacturer and has the capability to deliver a reliable and innovative system that could ease the usage of operator's daily business and increase real-time sales, from single location store to multi-national franchise business. With global presence from USA, Germany, and France to United Kingdom, we are capable of delivering the hardware and service that would best fit to individual enterprise requirement.