All In One
Superior POS Systems, enabling you to respond to market demand.
VariPOS 250S
Ultra-flexible Dual-hinge Design for Compact & Stylish Systems
Intel 6th Generation Celeron i3, i5 high-end processors in a fanless structure.
True flat 15" 4:3 LCD (LED backlight), 400 nits with IP66 protection.
Dual Hinged Stand for Maximum Flexibility (Supports Any Angle from Flat/Low Profile to Upright 90°)
Hidden Cable Management channels organize & reduce clutter when connecting accessory cables
Efficient onboard panel  IO interface (LAN + 2 USB)
Extendable IO capability to meet  any project specification (Optional)

Rich Vari IO with customization options & independently mountable features
Compatible with simple I/O devices
Quick SWAP Design for easy maintenance.

Peripheral compatibility across the whole VariPOS 2 Series: 2D Scanner, RFID, MSR, iButton & Fingerprint
Everyone Wins with Ergonomic
Double Hinged Design
VariPOS 250S durability and flexibility meets the demand with a dual hinged stand allowing extreme tilt flexibility.  The stand can be easily adjusted upwards with light pressure but requires force to push down providing a solid platform that allows simple height and angle adjustment.  The stand can be folded flat or adjusted to any view angle up to 180° providing maximum comfort and optimal efficiency to the POS Operation.  The compact footprint ensures the VariPOS 250S can be deployed in the most space restricted environments, optimizing sales counter space in hospitality & retail scenarios.
Deliver the Power to Perform

Dual-hinge Design
Dual Hinged Stand for Maximum Tilt Flexibility with hidden cable management channels organize & reduce clutter when connecting accessory cables

Full Range Intel Processors
6th Gen Intel Core processors offer TPM to protect IoT systems & supports Microsoft Windows platforms from POS Ready 7 to Windows 10 (32/64bit).

FANLESS
Fan-less architecture has the benefit of silent running and prolongs the life of the terminal, ensuring a great return on investment.

Powered USB Connections
The I/O provides everything you would expect from a high performance POS terminal including Powered USB for your retail peripherals.  *Vari IO option

IP66 Spill Proof
Combined with Front Panel IP66 (Ingress Protection) dust and waterproof protection, is perfectly suited for the rigors of hospitality and retail environments.
Hidden Cable Management Keeping Everything Organised
The Dual Hinge Stand provides hidden cable management channels to organize & reduce clutter when connecting power & accessory cables; the cables are concealed within the stand and covered with a securing plate maintaining the aesthetic look.
For the ultimate cable management solution the VariPOS S can be combined with the dedicated Poindus Vari IO the single custom high speed USB Type C connector connects all devices and simplifies cable management.  The POS can easily be removed leaving the I/O and peripherals in place simply by disconnecting a single cable.
Smart Dual Hinged Stand design brings Advanced Cable Management to the next level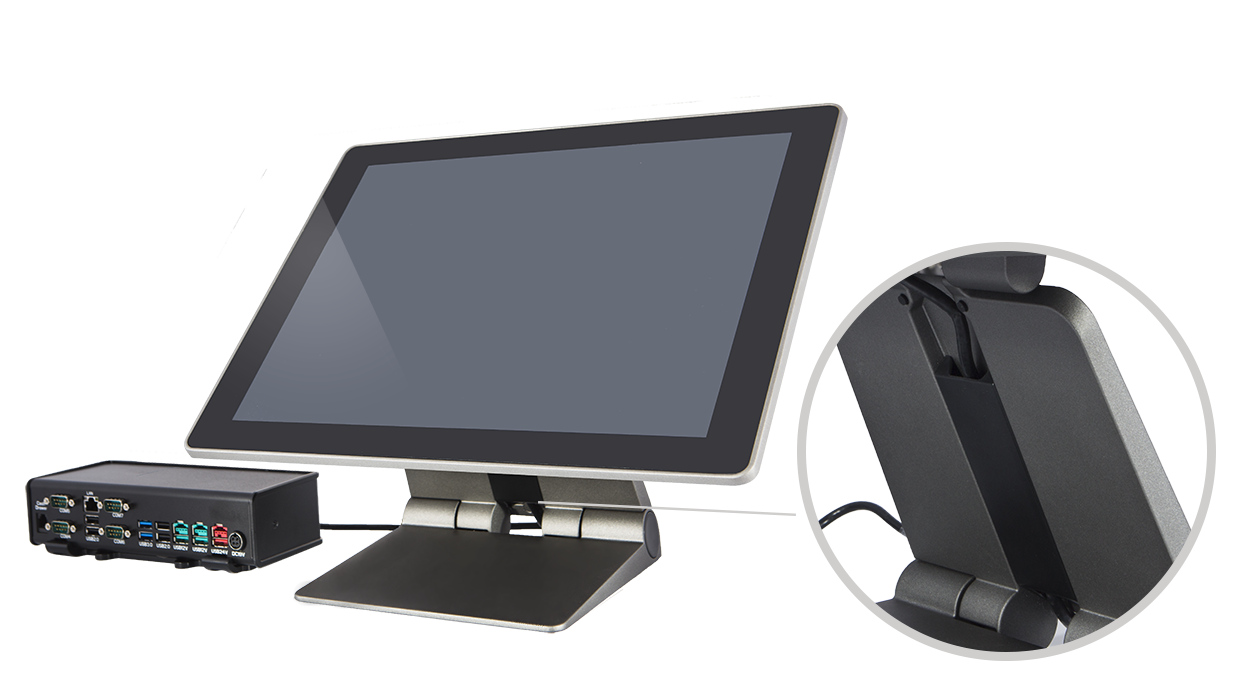 Powerful and Flexible I/O Connectivity
The Ideal Retail-Ready Solution
Poindus VariPOS 250S & Vari IO is the most flexible solution, offering all the standard I/O connections also supporting Point of Sale specific connections for Powered POS peripherals.  The flexibility of VariPOS 250S transforms any retail space into a versatile touch point.
Select the I/O to meet the project demands
As a standalone device the POS provides an efficient I/O interface offering simple connectivity to LAN & USB devices.
Vari IO Box extends functionality and connectivity, supporting additional LAN, COM & Powered USB connectivity.
Compatible with simple I/O devices allowing inexpensive connectivity to additional devices
* Vari IO connects via a single custom high-speed USB Type C connector to maintain high I/O transfer rates to all connected devices with advanced cable management.
Overcome project limitations whatever the deployment


Scalability, Flexibility and Simplicity.
VariPOS 250S is the perfect standalone device for deploying strategically sited touch-points disseminating real time information to employees & customers.  VariPOS 250S + Vari IO is the best solution for Pay Stations and Central Information Point terminals that require advanced connectivity, offering retailers deployment flexibility, eliminating the cost of over provisioned I/O requirements.
Simplified Installation and Serviceability has been designed in to the VariPOS 250S to provide quick and easy service for routine maintenance schedules (quick swap SSD/HDD and  I/O Box); significantly reducing engineer onsite visit time.
Scalable retail solutions provide enterprise a cost effective way to implement technology with an excellent return on investment.
Specification
   

VariPOS 250S (PE17 MB + PE18 VariIO) 

  Main Board
  Processor
Intel® Core™ i5-6300U Processor (3M Cache, up to 3.00 GHz)
Intel® Core™ i3-6100U Processor (3M Cache, 2.30 GHz)
Intel® Celeron® Processor 3955U (2M Cache, 2.00 GHz)
  Chipset
CPU Integrated
  System Memory
1 x SO-DIMM DDR4 slot, 4GB RAM as standard.  Max. memory support up to 16GB.   Easy acess with secured cover for easy maintainence.  
  TPM
Intel F/W
  Intel AMT
i5 CPU Only
  Display & Touch
  LCD Size
15″ 4:3 TFT LCD (LED backlight)
  Brightness
400nits 
  Resolution
1024 x 768 (4:3)
  Touch
True Flat Projected Capacitive Technology
  Storage
  HDD/SSD
1 x SATA III (2.5")
  I/O & Expansion
  DC Input
1 x Mini Din 4P (DC +19V only)
  LAN port
2 x Gigabit Ethernet by RJ-45
  USB port
2 x USB 3.0
  Bus Expansion
1 x Mini-PCI-E Slot
  Power Switch
1 x power on/off button
  Speaker
HD Audio, 2W Speaker x 2
  OS Support
  Win10 2016 (64bit), Win8.1 (64bit), Win7/POS Ready 7 (32/64bit)
  Power Adapter
  External adapter, DC Model :  Voltage:+19VDC, Std. 65watt. (VariIO / Powered USB requires 180watt adaptor)
  Compliance
  Certifications
CE, FCC, LVD, RoHS
  Protection
IP 66 on front panel
  Material
  Main Unit: Die-Cast Aluminum
  Color
  Main Unit: Silver / White 
  Dimension( Wx H x D )
  365.89 x 281.89 x  43.23
  Environmental Condition
  Operating
0°C ~ 40°C, 10% ~ 90% RH, non-condensing
  Storage
-20°C ~ 60°C, 10% ~ 90% RH, non-condensing
  MSR
ISO 3-Tracks Slim MSR USB Type
  ibutton
Dallas USB Type
  RFID
13.56Mhz USB Type
  Fingerprint
DigitalPersona U.are.U 4500 Module USB Type
  Scanner
2D scanner, USB Type
e-Brochure and Datasheet↓
VariPOS 2 Series Family Brochure