Tablet
Allowing you to maximize the value of your mobile solution with affordable enterprise functionality.
VariPAD W 7"/ 10.1" Tablet
Multi-Applications Expert
Intel® Atom x7-Z87XX series Quad-Core 1.6GHz (VariPAD W1/W2 Plus)
Energy saving CPU: Intel Bay Trail T CR Z3735F (VariPAD W1/W2)
7″ & 10.1" P-Cap touch screen with IP 54 waterproof certification
Windows OS (Z87XX/Z3735F) / Android (Z87XX) Available
Real-time data transmission by WiFi/ Bluetooth
8,000mAh swappable battery for heavy work operations
Built-in Integrated MSR, 5MP camera, NFC Module
Optional Modules Available: Smart Card Reader, Fingerprint reader, 1D/2D QR Code Scanner
PB45 I/O Expansion Cradle gives additional connectivity
Hand strap and holster to ensure security
Satisfies 1.2m Multiple Drop Test
Lightweight – Only .66kg (W1) or .93kg (W2)
VariPAD W, Transition Between Static Terminal and Rugged Mobile in Seconds
VariPAD W is the result of extensive R&D into the features that are crucial for the service, retail and hospitality industry. Maximize the value of your mobile solution with affordable enterprise functionality.
Whether being Utilized in a Retail Environment, a Restaurant, or out on the road in the Service industry; VariPAD W provides exceptional connectivity and enterprise functionality.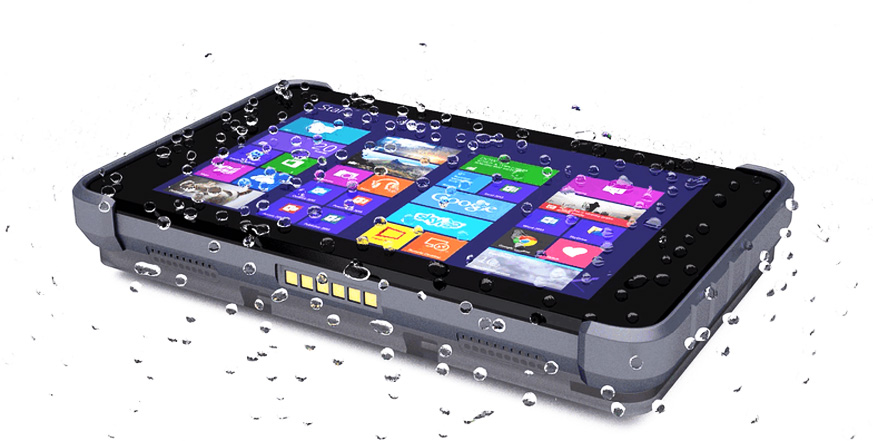 Energy Efficient Quad Core Performance &
Dual OS Support
To integrate mobility into an existing setup, Poindus VariPAD W Plus is available with either Windows or Android platforms. Quad Core Performance with energy efficiency and enterprise functionality; gives your organization a competitive edge.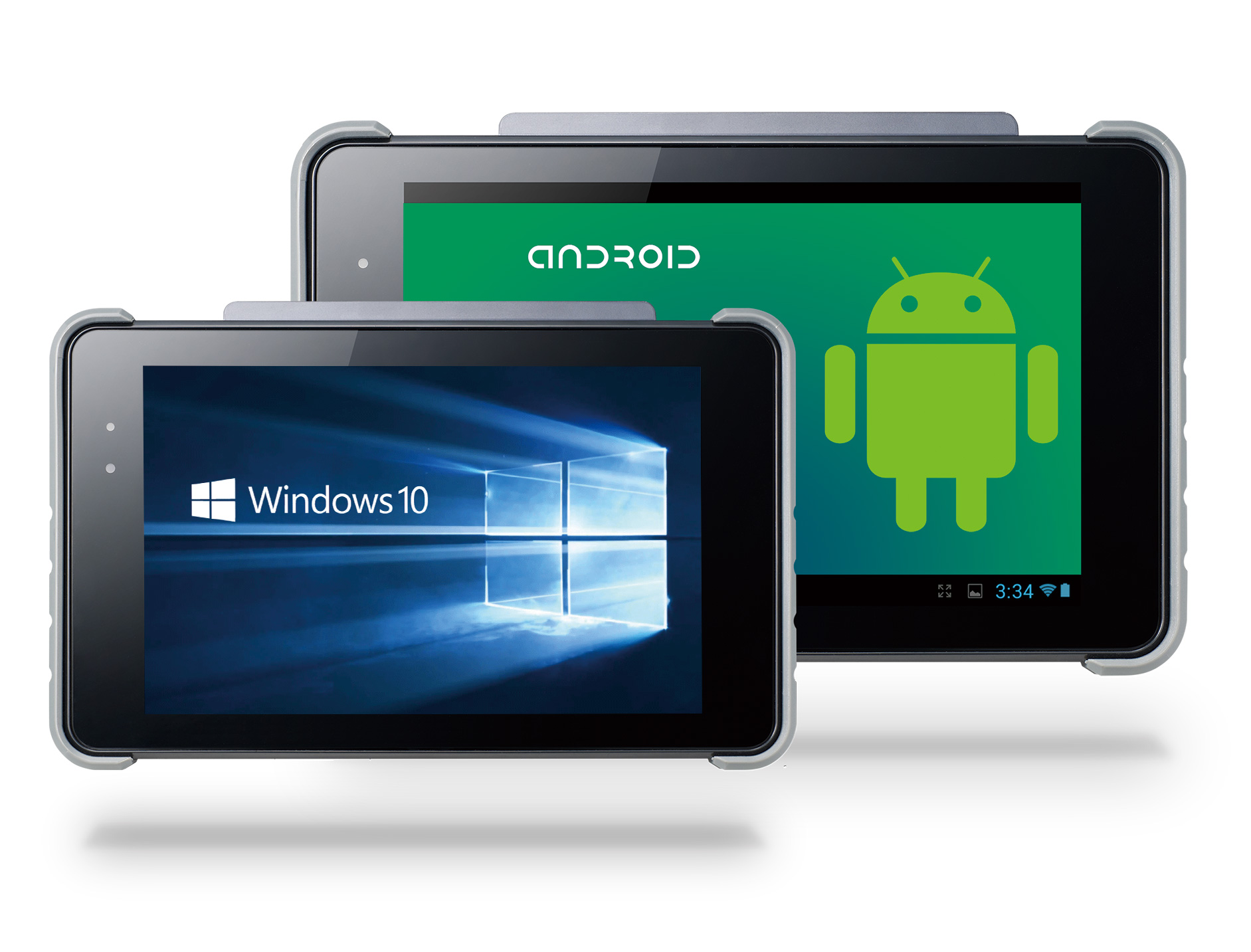 Wireless LAN

Bluetooth

NFC

2D Scanner
Extendibility with Multi I/O Expansion Dock Providing Enterprise Class Functionality
The multi PB45 I/O Expansion cradle gives additional connectivity, effectively transforming a mobile solution into a static terminal. Poindus VariPAD W Expansion Dock provides the required connectivity for multiple configurations. The flexible docking station combines all the advantages of simple and quick integration for the mobile tablet into your existing infrastructure.
The PB45 Expansion Dock provides Tablet Lock Security and additional connectivity with USB x2, USB x1 (2A), COM x1 (RJ48), LAN x1 (RJ45), VGA x1 (Optional)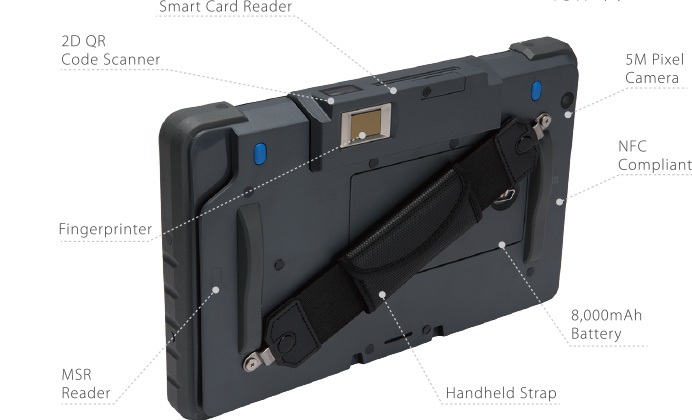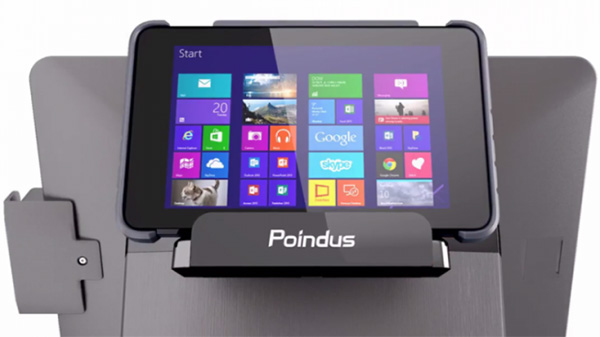 Undock VariPAD W from the POS and Mobilize Your Workforce to Scan, Sell & Assist Customers Directly
Not simply a POS tablet, a Mobile Sales Assistant for direct interaction with customers on the shop floor; or store room as an Inventory/Stock-taking Device with integrated 1D/2D Scanner; or an Order Entry Device (eg. Pub with Beer Garden). VariPAD maintains connectivity by Wi-Fi 2.4GHz or less crowded 5GHz spectrum. External peripheral connectivity (eg. Mobile Receipt Printer) via Bluetooth® 4.0+LE.
VariPAD 2nd Cradle is available for Poindus All-In-One POS Terminals and supports continual charging and allows use as a Customer-facing 2nd Display.
Operational Efficiency with Mobility & Long Life Swappable Battery Packs for 24/7 Operations
Enhance operational efficiency with this durable tablet that takes on your diverse working environment with ease. VariPAD W's 8,000mAh Battery Pack provides long life and is swappable for 24/7 operations.
For Usage that requires the VariPAD out of the Charging Cradle 6+ hours, Poindus can supply the 5-in-1 Battery Charger for charging 5 spare batteries simultaneously.
Enterprise Mobility offers your management and workforce real-time Communications on the ground.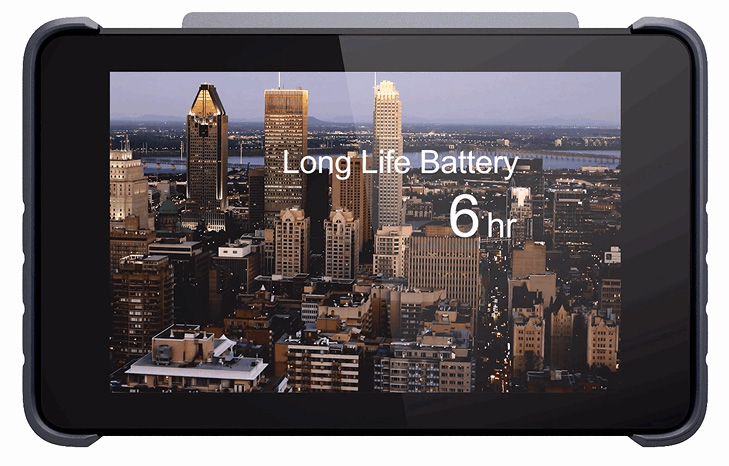 Specification
   

VariPad W1、VariPad W2 |  VariPad W1 Plus 、 VariPad W2 Plus

  Main Board
VariPad W1/W2
VariPad W1/W2 Plus
  Processor
Intel® Bay-Trail  Z3735F 1.83GHz
Intel® Atom x7-Z87XX series Quad-Core 1.6GHz
  System Memory
2GB LPDDR3
 4GB LPDDR3
  Storage
32GB eMMC (embedded MultiMedia Card)
 64GB eMMC
  Display & Touch
  LCD Size

W1:

7″

W2:

10.1″
  Brightness

W1:

300 nits

W2:

370 nits
  Resolution

W1:

1280 x 800 (WXGA)

W2:

1920 x 1200 (WUXGA) AUO
  Touch Technology
P-CAP 5 points Multi-touch EET
  Wireless Networking
  Wireless LAN
802.11 a/b/g/n, ac 2.4G / 5GHz (R ealtek WU-A101B-S)
  Bluetooth
4.0+LE, Clas s 2 (Bluetooth® Low Energy)
  NFC
YES
  I/O & Expansion
  DC Input
6 pin
  Power Switch
1 x power on / off switch button
  Speaker

W1:

1W x 1 Speaker

W2:

1W x 2 Speaker
  Control / Indicator  
  Power Button
1
  Sensor
G-sensor, Ambient Light Sensor (NO GPS)
  Vibration
Built-in vibrating motor
  LED Indicator
1 (Battery status indicator)
  Camera
5M pixel ( Rear side)
8M pixel (Rear side)
  Peripherals 
  MSR
3 Tracks MSR USB
  Barcode Scanner
1D/2D Bar code Scanner USB honeywell
  Combo Module
Smart IC Card Reader (Idtech/mini smart II)+ 1D/2D Barcode Scanner (Combo Module Optional)
  Hand strap
1
  Holster
Holster (Optional)
  Battery & Power
  Battery
8000 mAh, 3.7V, 29.6 Wh
  Power Adapter
10W / 5V
 12W / 5V
  Cradle
  USB Port
Micro-USB 2.0 x 1 (OTG)
  OS Support
Operating System
Windows 10 IoT Enterprise

Windows 10 IoT Enterprise

Android 7.0

  Compliance
  Certifications
CE, FCC, RoHS
 FCC Class B / CE Mark / CE, FCC, RoHS
  Fall Security
IP54 (display side),
1.2 M drop, 1 drop per side at 25˚C 
  Color
  Black
  Dimension( Wx H x D )
 

 W1:

204 x 128 x 35.3 mm

  

  

W2:

268 x 176 x 35.8 mm
  Weight
  

W1:

665g (1.47lbs), Max 690g (1.52lbs) (with all peripherals)
  

W2:

930g (2.08lbs), Max 990g (2.18lbs) (with all peripherals)
  Carton
L 400 x W 220 x H100 mm
  Environmental
  Storage Temperature
 As Shown Below
0º ~ 40ºC (32º ~104ºF,Not in charging mode), 0° ~ 35°C (32° ~ 95°F,running charging mode)
  Operating Condition
0˚C ~ 40˚C, 20% – 80% RH, non-condensing
 20% ~ 80% RH non-condensing
  Storage Condition
-10˚C ~ 45˚C, 10% ~ 90% RH, non-condensing
 20% ~ 80% RH non-condensing
  Optional Accessories
 2nd Display
Bracket

W1:

Micro-USB 2.0 x 1
 W2:Micro-USB 2.0 x 1
Vari / Tori seires
 Vari / Tori seires
e-Brochure and Datasheet↓